November 8, 2017 | Fog Crest Vineyard
What to Cook for Thanksgiving
It's already that time of year. Time to decided what to cook for Thanksgiving dinner.
With just a few short weeks until Thanksgiving, it's a good time to start thinking about what to prepare for your hungry guests during the holiday season. Do you use the tried and true recipes or do you get bold and try something new? Perhaps a contemporary twist on an old standard might be a good compromise. So many possibilities!
Reading through some of this year's cooking magazines there clearly is a trend towards the recipe re-do. To begin with, the concept of "raw" has become more and more popular over the last few years and has slowly made its way into mainstream cooking. An example of this is Bon Appetit's recipe this year for uncooked Cranberry and Walnut Relish. This updated version is less sweet than traditional cooked cranberry relish, but with great spice and texture.
Sunset Magazine suggests forgoing the whole bird this year, favoring instead a porchetta-style turkey breast, stuffed with an herb paste then rolled, tied and baked until golden. A side of oyster stuffing with chestnuts has the surprise added ingredient of the Chinese sausage "lap cheong".
Mashed potatoes take on new personalities with infusions of rosemary and garlic, or the addition of pureed fennel or celery root. Whichever way you choose, spoon the finished creamy, buttery mixture into a flameproof serving dish, swirl the top, drizzle with a little (more) melted butter and give it a couple of minutes under the broiler for an Instagram worthy crusty browned top.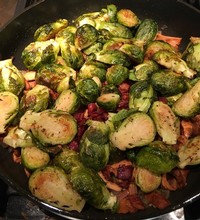 Mushrooms are great, but perhaps they need a break from hanging out with the green beans this year. Think Brussels sprouts and bacon fat. Add to that some gorgeous golden chanterelles and you're on the genius track. And while it may be too much for an already calorie laden Thanksgiving dinner, don't miss the opportunity sometime this season to make a batch of this Creamy Forest Mushroom Soup.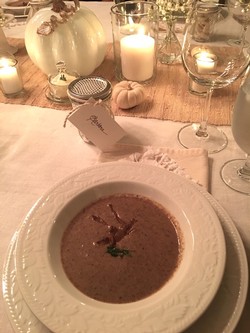 Tip on this one: make the mushroom stock using some dried wild mushrooms and their re-hydrating liquid for extra earthy richness.
The fried onions from that green bean casserole will never be missed if you serve this unique side of Leeks in Vinaigrette with Walnuts and Tarragon. Plenty of Dijon and whole grain mustard makes this dish irresistible.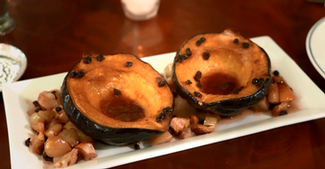 One of our "traditional" dishes that we just couldn't leave out is Jim's Maple Roasted Acorn Squash with Currants and Apples. The sweetness of maple and apples offsets the earthy squash, and a touch of Bourbon brings this recipe home.
Don't forget dessert! Like anybody would let you. Can't figure out which of the dessert standby's to make to please everyone. This "Three-Layer Thanksgiving Cake" from Food & Wine Magazine should appeal to all of your guests. All the flavors of Autumn - pumpkin, candied pecan and cranberry cornmeal - are represented in one giant cake, then finished with everyone's favorite cream cheese frosting.
Choosing the wines to pair with your feast shouldn't be as difficult as choosing which recipes to make. Glasses of chilled Fog Crest Vineyard Rosé are just the thing to get your special occasion off to a great start. Our Fog Crest Vineyard Chardonnay and Pinot Noir are the perfect wines to enjoy with all of the dishes on your menu. Offer your guests both and let them decide which they prefer. Always better to debate wine over dinner than politics, right?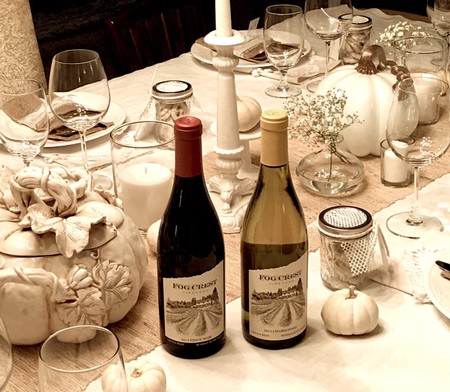 Comments
Commenting has been turned off.
Recent Posts
January 11, 2019

October 23, 2018

October 9, 2018

April 23, 2018

March 23, 2018

February 24, 2018

January 19, 2018

January 17, 2018

December 18, 2017

December 18, 2017
Blog Categories
Blog Archives
Our Writers