November 17, 2014 | Food and Wine | Fog Crest Vineyard
Thanksgiving Recipes: Maple Roasted Acorn Squash With Currants and Apples
Thanksgiving just screams for all things pumpkin and squash. We like to switch up from sweet potatoes sometimes with this acorn squash recipe that blends the earthy squash flavor with the sweetness of maple and apples. A touch of Bourbon doesn't hurt either!
Thanksgiving is a time for our family to slow down, be together and share each other's company along with delicious food and wine. James says it best in his video about the holiday and how to pair the foods of the big dinner with our Russian River Pinot Noir and Chardonnay.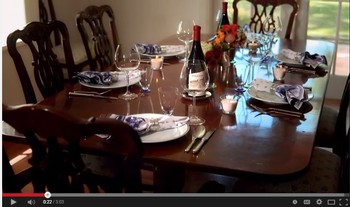 Maple Roasted Acorn Squash With Currants and Apples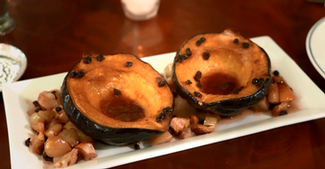 3 acorn squash, halved crosswise and the seeds and strings removed
1/2 cup unsalted butter
3/4 cup pure maple syrup
1 tsp Bourbon (optional)
3 tablespoons dried currants
Three large tart apples (we like Gala or Rome) cut into ½ in. pieces
Pinch of salt
Arrange cleaned, halved squash in a baking dish cut side down in a thin layer of water. Roast squash in a 400 degree oven for 30 min. While squash is roasting, line rimmed baking sheet with parchment. Toss apples in ¼ cup maple syrup and spread on sheet. Dot apples with small pieces of cold butter. In a small saucepan, combine remaining butter, syrup, Bourbon, currants and salt. Stir to combine and heat mixture over medium to low heat, stirring until butter is melted and currants are rehydrated. Keep sauce warm on low heat. Remove squash from oven and brush it with sauce. Return to oven for approximately 20 min. until it is tender. Add apples and roast for 20 min. in same oven. Remove from oven and plate squash, cut side up. Surround squash with roasted apples and drizzle warm sauce with currants over squash and apples.
Serve immediately.
Serves 6 as a side dish.
Comments
Recent Posts
January 11, 2019

October 23, 2018

October 9, 2018

April 23, 2018

March 23, 2018

February 24, 2018

January 19, 2018

January 17, 2018

December 18, 2017

December 18, 2017
Blog Categories
Blog Archives
Our Writers