January 11, 2019 | Fog Crest Vineyard
Celebrating the 2018 New Olive Oil from Italy
Our annual tradition of celebrating the "new oil" of Italy continues.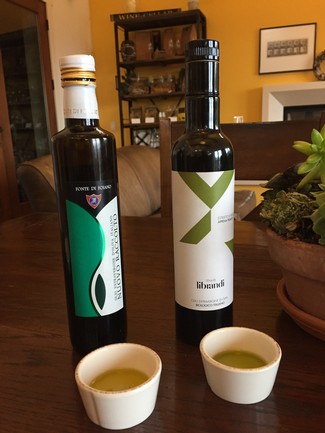 It's hard to believe a whole has passed since our last celebration of the "new oil". Traditionally, every year after harvest is complete and the holidays are over, Jim chooses an Italian "new oil" - this year he actually picked two! He then plans his menu of dishes to showcase the oils. If you're new to Fog Crest Vineyard, you may be wondering what is "new oil"? Well, it's the freshly bottled, cold-pressed, extra virgin oil that still has the freshness and intensity of just picked olives. New oils skip the holding period of traditional oils and go straight into bottle for immediate release and consumption, generally available only from October to November of the year harvested.
The area of Castagneto Carducci-Bolgheri, Tuscany, known for its special microclimate and light, is where the first of our chosen olive oils, Fonte de Fiano, is from. In the region, centuries old olive trees are still producing olives! Sea winds and soil made of clay and limestone create a terroir perfect for the cultivation of olives, helping to produce harvests of quantity and quality.
Our second olive oil, Tenute Librandi from Cosenza, is an organic oil produced from year to year with different varieties of olives, depending on the ripening period. This year's is herbaceous on the nose, with strong notes of tomato leaves. The taste is characterized by hints of herbs and almonds.
Think outside the box when using these beautiful oils. Drizzle it on avocado toast, freshly made hummus, grilled tomatoes and fennel, or caponata made with eggplant from the local farmers' market. Needless to say, they are wonderful simply as a dipping oil for fresh, hearty artisanal breads.
So find your favorite "new oil", might want to start here, visit your local bakery and market, open the wine and enjoy your own celebration of the best Italy has to offer. Why not make it a tradition at your house too?
Comments
Commenting has been turned off.
Recent Posts
January 11, 2019

October 23, 2018

October 9, 2018

April 23, 2018

March 23, 2018

February 24, 2018

January 19, 2018

January 17, 2018

December 18, 2017

December 18, 2017
Blog Categories
Blog Archives
Our Writers