October 23, 2018 | Fog Crest Vineyard
Cod Mitonnée - It's What's for Dinner Tonight
Cod Mitonnée - easy enough for weeknights, special enough for company
There's a chill in the air that reminds us Fall has arrived. As the sun sets earlier and the evenings get cooler, the thought of something warm and comforting for dinner sounds really good. Hard to imagine something so simple as a filet of cod on a toasted baguette sitting in a rich, aromatic broth could be so comforting, but it is!
Cod Mitonnée is an uncomplicated dish that is sort of a combination of fish stew and a reverse onion soup. It is easy enough to make any night after work, yet special enough to serve to company over the weekend. The dish has it all - fish, beans, greens, bread and cheese, so the only other thing you need to do is open a bottle or two of perfectly chilled Fog Crest Vineyard Chardonnay, relax and enjoy.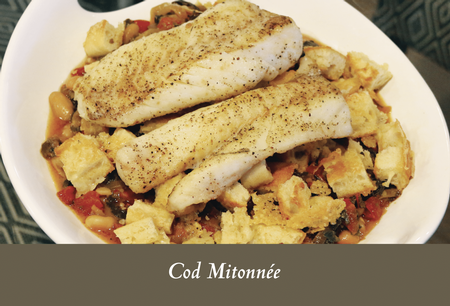 COD MITONNÉE
Serves 6
Ingredients:
Croutons:
1/2 baguette, sliced on the diagonal into 6 pieces
1/4 cup olive oil
6 oz grated Gruyère cheese
Cod and Broth:
1/2 cup olive oil
4 cloves garlic, minced
2 yellow onions, sliced 1/4" thick
4 sprigs of thyme
5 cups chicken stock
1 cup dry white wine
2 cups Swiss Chard, red or green, torn into bite sized pieces
1 tsp each minced chives, tarragon & Italian parsley
3 plum tomatoes, peeled, seeded & diced
1 cup cooked cannellini beans (white beans)
6 Cod fillets, seasoned with salt & pepper
Instructions:
Pre-heat oven to 325.
Heat 1/4 cup of olive oil over a medium heat in a Dutch oven. Add onions, garlic and thyme and sauté approximately 30 minutes until golden, taking care not to burn garlic. Add wine and stock, reduce heat to low and simmer 30 min.
In a sauté pan over very low heat, place 1/4 cup olive oil. When oil begins to smoke add 3 seasoned Cod fillets. Cook for 3 minutes per side, then remove from pan and place on a baking sheet. Repeat with remaining 3 fillets. Place baking sheet with fish in oven for 5-7 minutes.
Add Swiss chard to stock with beans, herbs and tomatoes. Cook for 15 minutes over medium heat.
Remove fish from oven when cooked through. Raise oven temperature to 350.
Brush baguette slices with olive oil and toast on baking sheet for approximately 8 minutes per side. Sprinkle Gruyère cheese over each slice and broil till cheese melts. (Watch carefully - they burn fast!)
Ladle broth, beans and vegetables into shallow, rimmed bowls. Place crouton in bowl and top with Cod fillet.
Drizzle with a touch of good finishing olive oil and serve immediately.
Comments
Commenting has been turned off.
Recent Posts
January 11, 2019

October 23, 2018

October 9, 2018

April 23, 2018

March 23, 2018

February 24, 2018

January 19, 2018

January 17, 2018

December 18, 2017

December 18, 2017
Blog Categories
Blog Archives
Our Writers