January 17, 2018 | Fog Crest Vineyard
Valentine's Day Dinner at Fog Crest Vineyard
Celebrating Romance with Great Food and Wine
Love is in the air as we put the finishing touches on one of our favorite events of the year, our Valentine's Day Dinner for 2018.
We invite you to celebrate love with an unforgettable candlelit evening, enjoying an exquisite menu prepared by the esteemed Chef Barbara Hom. Each of the five tantalizing courses will be expertly paired with our ultra premium wines. We'll begin the evening with caviar and end the meal with chocolate…of course.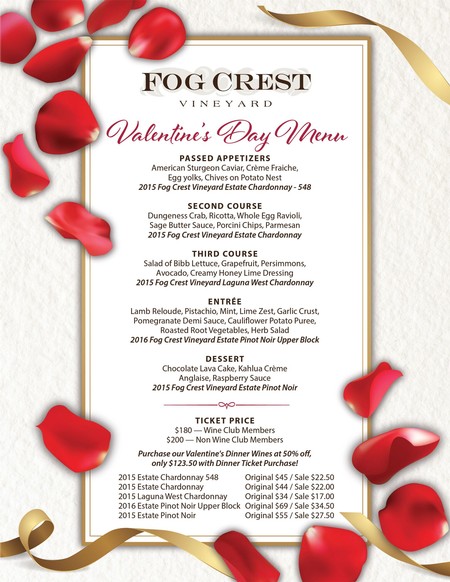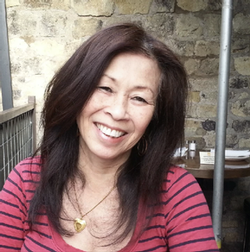 Known for her blending of fresh, local, seasonal products and traditional ingredients, Chef Hom's resumé boasts stints in some of the area's finest restaurants, and she has presided over winemaker dinners at dozens of Sonoma's most prestigious wineries. She has designed and created menus for food and wine critics such as Michael Bauer, Marvin Shanken, James Laube, Dan Berger and Jeff Morgan, to name a few, and we are thrilled to have her creating this year's special Valentine's Dinner for you.
This will be an intimate event with limited seating available, so please make your reservations early. This year we are also offering guests the opportunity to purchase the entire collection of the wines we'll be serving with the dinner, including two that are normally only available to Wine Club members, at a 50% discount. Upon purchase of your dinner tickets you will receive an e-mail with a promotion code to purchase all five wines for just $123.50! A perfect way to stock your cellar for future romantic dinners.
We look forward to spending this very special evening with you.
Comments
Commenting has been turned off.
Recent Posts
February 20, 2019

January 11, 2019

October 23, 2018

October 9, 2018

April 23, 2018

March 23, 2018

February 24, 2018

January 19, 2018

January 17, 2018

December 18, 2017
Blog Categories
Blog Archives
Our Writers