December 3, 2015 | Fog Crest Vineyard
Rack of Lamb for your Holiday Entertaining
Holiday entertaining - keeping it simple, elegant and delicious.
'Tis the season to be….busy, stressed, hectic, with shopping, cooking and special events all leaving us wondering how to get it all done in time. But, when all is said and done, 'tis the season to take a bit of time to spend in the company of friends and family, sharing a good meal, laughing, singing and toasting to each other. Tiny Tim said it best …."God bless us every one".
If you're planning some holiday entertaining, but don't know quite where to begin, we can help with suggestions for a festive menu and tablescaping ideas.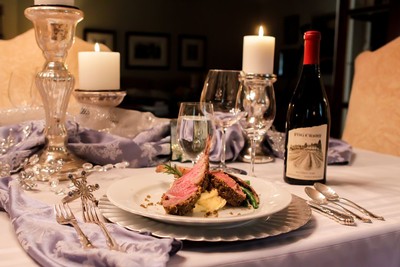 When setting the table, keep in mind that this may be your last opportunity of the year to get out the "good silver", fine china and some beautiful linens for a table that expresses your gratitude for the guests that will soon be gathered around it. So go for it!
You can keep it simple, but elegant and sparkly with a snowflake theme. Basic white plates become a snowy background, and silver, mercury glass and mirrored runners or coasters reflect candlelight like the crystals of a snowflake. Sprinkle a little fake snow all around for a touch of flurry. For a splash of soft wintry color, use light blue napkins and candles or wrap some light blue ribbon around white pillar candles, tying in a bow. Complete the snowy illusion by hanging glittered snowflakes of varying sizes and shapes from the chandelier and your winter wonderland is complete.
The day before, chill a couple bottles of champagne and Fog Crest Vineyard Chardonnay and prepare this easy and completely impressive Wild Mushroom Pâté. Table - set, appetizer - made, chardonnay - chilled.
For that special holiday dinner, rack of lamb fills the bill. Season it with a savory crumb topping, and serve with garlic mashed potatoes and wine braised green beans for an elegant meal your guests will rave about. Pair with Fog Crest Vineyard Estate Pinot Noir.
Herb-Crusted Rack of Lamb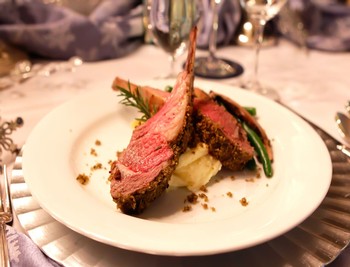 Serves 4-6
Ingredients:
1 large garlic clove
3 Tbsp rosemary leaves
2 Tbsp. grated parmesan
2/3 cup dry bread crumbs
2 Tbsp herbes de Provence
2 Tbsp Dijon mustard
3 Tbsp olive oil
2 1½ -pound racks of lamb (8 ribs each)
Combine first 6 ingredients in processor and pulse till finely chopped. Drizzle in olive oil-process till mixture is blended.
Pre-heat oven to 425°F. Sprinkle lamb with salt and pepper. Arrange, bone side down, on a small rimmed baking sheet. Press breadcrumb mixture onto lamb, coating completely. Roast until meat thermometer inserted into center of lamb registers 135°F for med-rare, about 30 minutes. Let meat rest for 15 minutes. Cut chops between bones and serve with garlicky mashed potatoes and green beans.
Green Beans with Pinot Noir Braised Portobello
Serves 4-6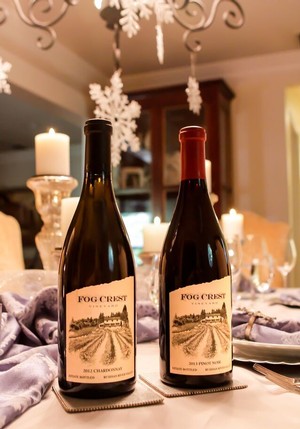 Ingredients:
4 portobello mushrooms, gills removed
1 T. olive oil
½ cup chopped onion
1 clove garlic, chopped
1 cup pinot noir
2 cups vegetable broth
4 thyme stems
1 lb green beans, trimmed
Sauté onion in oil 4-6 minutes. Add garlic and sauté another 2 minutes. Add wine, broth and thyme – bring to a boil. Remove from heat. Place protobellos in a roasting pan and cover with hot liquid. Cook, un-covered in a pre-heated 300° oven for 2 hours, stirring every 30 minutes. Remove mushrooms and cook remaining liquid on stove top until slightly reduced. Slice mushrooms about ¼ inch thick and set aside.
Meanwhile cook green beans until just crisp tender. Drain and cool quickly in ice water or run under cold water. Add mushrooms and green beans to sauce to warm and serve.
To serve, place a mound of mashed potatoes in center of plate. Top with 2 lamb chops. Place green beans with mushrooms on side.
Cheers to you and yours – wishing you a very happy holiday!
Photo Credit: Shawn Burgert
Comments
Commenting has been turned off.
Recent Posts
January 11, 2019

October 23, 2018

October 9, 2018

April 23, 2018

March 23, 2018

February 24, 2018

January 19, 2018

January 17, 2018

December 18, 2017

December 18, 2017
Blog Categories
Blog Archives
Our Writers