June 9, 2016 | Fog Crest Vineyard
Wining and Dining in the San Fernando Valley
North of Los Angeles, just over the Santa Monica Mountain Range, lies the San Fernando Valley. This sprawling area, completely surrounded by mountains, once was home to large rancheros and orange groves. During the '50's and '60's it became a quiet suburb and a picturesque backdrop for many a western movie film shoot. Today, it is a bustling mecca offering a vast and culturally diverse selection of food and beverage experiences.
Our quick, 2-day visit to the Los Angeles area at the end of May, took us to two small events in the SFV, both quite different, but both attended by folks that would quickly become new friends.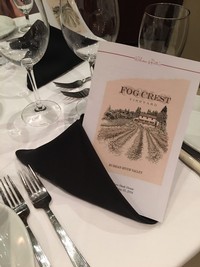 Our first "adventure" took us to Ruth's Chris Steakhouse in Woodland Hills, on the western end of "the Valley". Being the "foodies" that we are, you might be surprised that we chose a chain restaurant for a wine pairing dinner. The food was anything but predictable - in fact, the menu was creatively designed and each of the 5 courses was delicious! Service was pretty amazing too. Upon arrival, we were warmly greeted by Special Events Coordinator, Maya Camara, who introduced us to our extremely professional staff for the evening, including Pablo Luna, our head server. Their service and attentiveness to every detail was outstanding! The table was beautifully set in a private room, and they had prepared a menu/program for each guest as a souvenir of the evening. Each course paired perfectly with the wine and tasted wonderful, thanks to Executive Chef Mike Marquez.
Menu: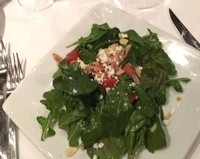 First Course
Watermelon, Goat Cheese and Toasted Almond Salad
2013 Fog Crest Vineyard – Laguna West Chardonnay

Second Course
Seared Atlantic Sea Scallops Wrapped in Bacon on a bed of Forbidden Rice
2012 Fog Crest Vineyard – Estate Chardonnay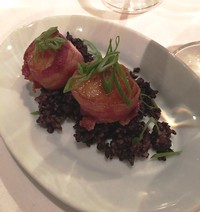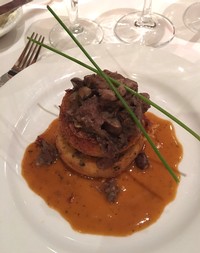 Third Course
Duck Confit Napoleon with Romano Cheese Polenta Cakes with a Veal Demi Glace and BBQ Butter Sauce
2013 Fog Crest Vineyard – Laguna West Pinot Noir

Fourth Course
Filet with a Cabernet Port Red Onion Jam Sauce and Sautéed Garlic Broccolini
2013 Fog Crest Vineyard – Estate Pinot Noir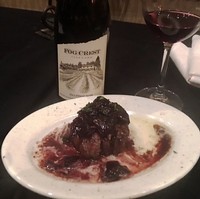 Fifth Course
Chocolate Espresso Torte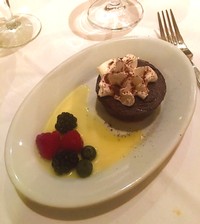 The next evening, which happened to be National Chardonnay Day, we were invited to pour for a small group of invited guests at Liquid Assets Cellars, a custom wine locker facility in North Hollywood, on the eastern end of "the Valley". Hosted by owner, Kevin Jones, and event coordinator, Nancy Friedman, the evening was an intimate gathering of wine enthusiasts who engaged Jim in lively conversation about wine and food, and ended the evening opening some vintage bottlings extricated from their private collections.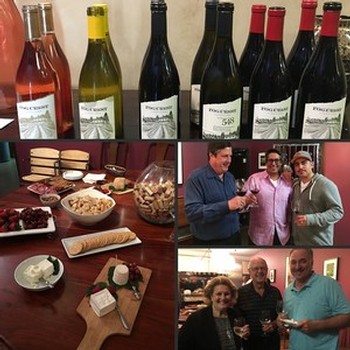 Thank you to Ruth's Chris and to Liquid Assets Cellars for being such gracious hosts, and to everyone who came out to try our wines. We had a great time and look forward to our next visit! Cheers!
Comments
Barbara Cohen
@ Jun 9, 2016 at 11:07 PM
It was a delightful evening at Ruth's Chris! Fabulous wine pairing. We are happy to have met you and to become wine club members. Cheers! Jack & Barbara Cohen
Recent Posts
January 11, 2019

October 23, 2018

October 9, 2018

April 23, 2018

March 23, 2018

February 24, 2018

January 19, 2018

January 17, 2018

December 18, 2017

December 18, 2017
Blog Categories
Blog Archives
Our Writers