January 14, 2015 | Fog Crest Vineyard News, Food and Wine, Special Events | Fog Crest Vineyard
Valentine's Day Wine Dinner at Fog Crest Vineyard
Continuing a year of "firsts" with our first Valentine's Day Dinner at Fog Crest Vineyard.
Yes, we're still at a point where we are experiencing "firsts". It's exciting, really – a little scary sometimes, but mostly exciting.
So, we are very excited to announce our first Valentine's Day Wine Dinner to be held Saturday, February 14th at 6:00pm. We'll have our tasting room and barrel room romantically lit to set the mood for a gourmet 4-course dinner prepared by Heidi West Catering of Healdsburg. We think Chef Heidi has created the perfect pairings for our Chardonnay and Pinot Noir and we are looking forward to enjoying these delicious dishes with you while we toast to love and friendship.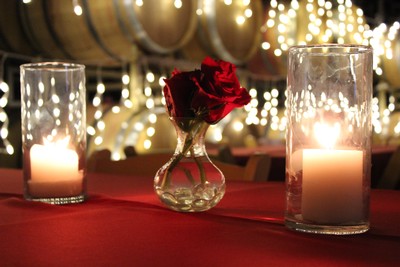 DINNER MENU:
FIRST COURSE:
Winter Green Salad of Butterleaf, Arugula, Frisee and Belgian Endive with Smoked Trout, Julienned Apple, Goat Cheese and Meyer Lemon Dressing
2010 Elevage Chardonnay

SECOND COURSE:
Butternut squash ravioli with brown butter
2011 Estate Chardonnay

THIRD COURSE:
Seared Duck Breast with Shallot, Bay and Thyme
Cherry Compote
Potato Celery Root Gratin
2012 Laguna West Pinot Noir

FOURTH COURSE:
Pan Seared Salmon on Beluga Lentils with Black Olive Tapenade and Red Wine Reduction
2012 Estate Pinot Noir
DESSERT:
Local Artisan Cheese Course for the Table
Sweet Treat to Take Home from Recherche Du Plaisir
Space is extremely limited so that we can create an intimate setting for the evening. Please call early to make your reservations, (707/829-2006) or e-mail our tasting room manager, Nessia, at Nessia@fogcrestvineyard.com
"Love like wine gets better with time"
Comments
Recent Posts
January 11, 2019

October 23, 2018

October 9, 2018

April 23, 2018

March 23, 2018

February 24, 2018

January 19, 2018

January 17, 2018

December 18, 2017

December 18, 2017
Blog Categories
Blog Archives
Our Writers