November 28, 2017 | Fog Crest Vineyard
Tamales - A Holiday Tradition
From savory to sweet, tamales are a special treat during the holiday season.
It's usually around this time of year, just after the last of the turkey and stuffing leftovers have been consumed, that thoughts turn to Christmas baking and perhaps the annual cookie baking day. The holidays hold no shortage of traditions, and this year we're exploring the 'tamalada', a day of making tamales, and a holiday tradition in many Latin cultures.
There's no real story or reason behind the tradition, but best guess is that the labor intensive project is a good excuse to gather friends and family during the holiday season and spend quality time together assembling massive amounts of tamales to give as gifts and to enjoy at various holiday meals. Tamales can be made with different fillings from savory to sweet. They are great served as a buffet dish, for breakfast with chorizo and eggs, for dinner alongside a turkey, ham or carne asada. They can also be made with a chocolate filling to enjoy for dessert with steaming hot cups of Mexican Chocolate with cinnamon.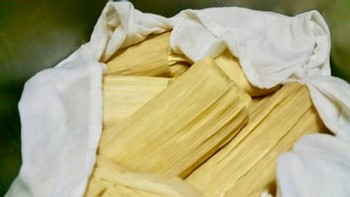 Afraid your friends won't appreciate a gift of tamales as much as your special sugar cookies? Good tamales are elusive. You may find them on the occasionally restaurant menu, but they just never seem to taste as good as homemade? Whether tamales are made from time honored family recipes or recipes with contemporary twists, they are all made with love as the primary ingredient, and that goes a long way to making them highly sought after. No one can resist pulling back the warm corn husks revealing the moist masa packages filled with chile rojo or verde, chicken molé, sweet corn, braised pork belly, or cheese. Really any kind of chicken, beef, pork or vegetable combination can become a filling for tamales - plenty of room to get creative!
So leave the cookie baking to someone else this year and try something new - host a tamalada! Purchase your ingredients, clear the kitchen table and gather the troops, who are likely to work up quite a thirst with all that tamale making…and tasting. Be sure to chill up plenty of beer, tequila and, our favorite beverage choice, Rosé! There are plenty of ideas and recipes on line. Here's a few to get you started.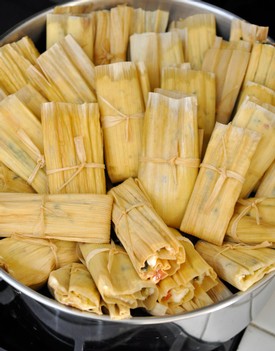 Chicken Tamales with Tomatillo-Cilantro Salsa
Spicy Mexican Chocolate Tamales
Food & Wine Magazine: 10 Best-Ever Tamales
Here at Fog Crest Vineyard, we'll be serving tamales, pozole (hominy soup) and all the condiments at our First Friday event on December 1, 2017. We're looking forward to sharing this delicious holiday food tradition with you as part of our pursuit to explore unique food and wine pairings. Hope you can join us. Click here for details or to RSVP.
Comments
Commenting has been turned off.
Recent Posts
January 11, 2019

October 23, 2018

October 9, 2018

April 23, 2018

March 23, 2018

February 24, 2018

January 19, 2018

January 17, 2018

December 18, 2017

December 18, 2017
Blog Categories
Blog Archives
Our Writers