December 22, 2013 | Fog Crest Vineyard News | Fog Crest Vineyard
Setting the Holiday Table
Guest blogger, Xochitl Maiman of "I'll Drink to That" shares her tablescaping ideas for the holidays.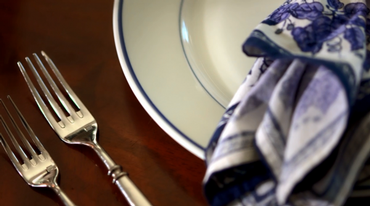 Tablescaping is a passion of mine, but I tend to think along simpler lines as opposed to over the top centerpieces and lots of fru fru. What's really important at any dining room gathering is the company first and the food and wine. If those three components are all good the table setting is "gravy".
A good tablescaping should be composed of different textures, sizes, shapes and colors that all complement one another. I have found it to be much more fun to collect items over the years with various themes in mind – it seems more organic than going out and buying everything at once that all "matches".
Hanukkah brings lots of blues and gold to the table and Christmas shimmers in red, green and gold. For a general winter feeling I love to think snow and snowflakes with a color palate of light blue, white and silver.
A white dinner plate with a gold rim is a great staple to have in your dishes arsenal. Pair it with a blue charger for Hanukkah, a red charger for Valentine's Day or Christmas and a gold charger for Christmas or New Year's Eve. Gold always adds elegance to a table setting. Add gold accents like candles, napkin rings, napkins and table baubles.

A plain white plate is great for a more casual feel like in this snowflake themed winter table. The "glitz" here comes from silvery accents like silver glitter snowflakes, white, light and dark blue candles, silver napkin rings, clear glass candle holders, and gifts wrapped in snowflake paper, silvery wired ribbon and displayed as a centerpiece on a silver platter. Use a shoe box under a napkin that matches the tablecloth to give height to the centerpiece.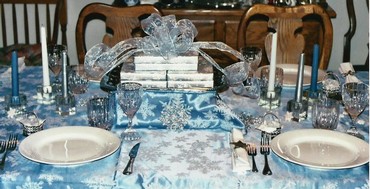 Runners add interest to the table in the way of contrast, design, texture and color. Doubling up on sheer napkins again adds contrast as well as fullness. Napkin rings should complement your theme either with style, color or theme related item. Napkins can be placed in a number of ways without ever having to learn any fancy restaurant folds. Roll or "stuff" into a ring, fold and place on plate and you can even fold long and place under dinner plate like a mini "runner" from top to bottom. Notice the difference in feel between the two tablescapes below. The only differences are the color of the tablecloth and napkins. I also switched from silverware to flatware with a red handle and gold trim. Which do you like better?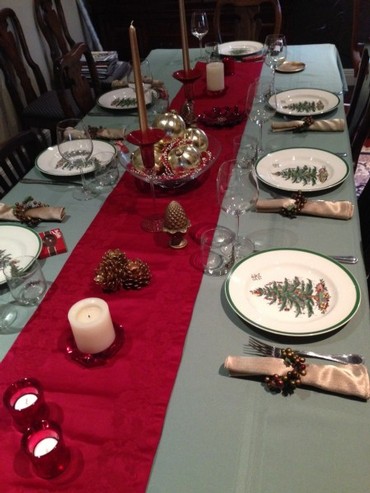 Red runner on sage green tablecloth with gold napkins.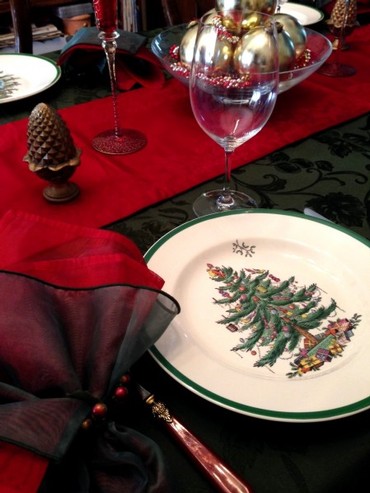 Red runner on a dark green tablecloth with sheer napkins in red and green.
And for a wine country feel anytime of year, take advantage of all those corks you've been saving. Use them to make a candle centerpiece and place card holders as I've done here. The card holders are just 6 corks glue-gunned together then tied with raffia. Use them wine stained side up for interest and color. In this table setting the water glasses are actually wine bottles that have been cut down. The wine glasses are amber, which is the main color in this palette, the flutes are clear and all different styles, the napkins are pewter grape clusters,the dinner plates are ochre and the salad plates are patterned from another set. Nothing "matches", but everything works well together.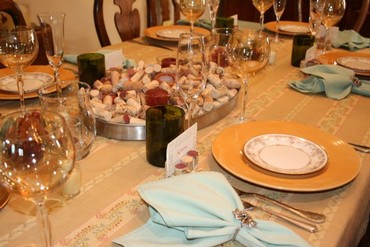 Details count – pressed linens and polished silver are a must. Do take the time to learn the correct placement of silverware and glassware. Don't hesitate to get out the "good" china, silver and glassware – it's meant to be enjoyed often. As for glassware, besides a water glass, an all-purpose wine glass is fine – preferably clear (to see color of wine), large enough bowl to swirl and enjoy bouquet, plain as opposed to cut crystal (again to evaluate the color of the wine) and without a rolled lip. I love stemware in colors, but I generally use them for water instead of wine.
As the holidays approach, be creative and have fun with your tablescaping – casual or formal. No need to run out and spend lots of money - you probably have much more on hand to work with than you think and what you have in your home will reflect you and your family. (One Christmas I found myself with all my ornaments in storage. I decorated the tree entirely with napkin rings and it sparkled beautifully!) Then, as you finally sit down to enjoy the meal, take a moment to take in the beauty of the people seated at your table – priceless and perfect. Cheers!
Comments
Commenting has been turned off.
Recent Posts
January 11, 2019

October 23, 2018

October 9, 2018

April 23, 2018

March 23, 2018

February 24, 2018

January 19, 2018

January 17, 2018

December 18, 2017

December 18, 2017
Blog Categories
Blog Archives
Our Writers