January 19, 2018 | Special Events | Fog Crest Vineyard
Looking Back on our 2017 Events
As we make plans for our 2018 events, big smiles come to our faces as we recall all the fun we had over the last year….
January started, as usual, with our celebration of the "new olive oil" from Italy. That's James' favorite event, being the foodie that he is, and it gave him the opportunity to come in from the vineyard and share some of his favorite food pairings for the freshest of olive oils.
In February we transformed our tasting room into an intimate dining room to celebrate Valentine's Day with an incredibly delicious menu of duck, scallops and stuffed quail prepared for our guests by Chef Ken Rochioli. Chocolate Soufflé Cake ended the evening on the sweetest of notes.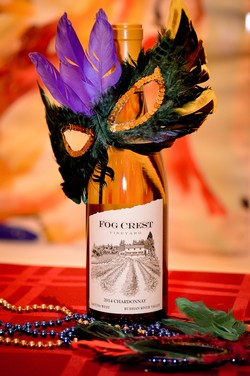 February was also a time to celebrate Mardi Gras. We can't resist the opportunity to indulge in all that New Orleans style food that just screams party time. There is just something so gratifying about a bowl full of jambalaya!
We began March with the Annual Barrel Tasting Weekends along the Wine Road. For two consecutive weekends we welcomed tasters into our barrel room to sample our Estate Chardonnay and Pinot Noir and our much anticipated 2016 Rosé. We also took Fog Crest Vineyard on the road that month pouring at both the World of Pinot Noir in Santa Barbara and the Palm Dessert Food & Wine Festival. Fig & Olive Restaurant in Los Angeles hosted us at a wonderful winemaker dinner, introducing us to some of their West Hollywood clientele and wowing us with a perfectly paired menu that included crab cakes, Truffle Risotto and lamb chops, ending with a decadent Chestnut Mousse.
We held the the first of our Chef Series Dinners in April. Chef Barbara Hom delighted our guests with her "global eclectic" cuisine that included Halibut Coconut Tempura with Kumquat Salsa and Star Anise Tea Smoked Liberty Duck. We loved her food and hope she'll come back for an encore dinner sometime soon.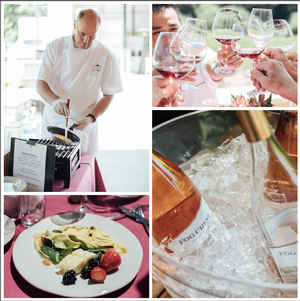 One of our all-time favorite events each year is our celebration of Mother's Day. Last year our "Mother's Day Brunch with a View" was catered by the area's highly regarded Pascaline Fine Catering, and included their quintessential omelet station along with crepes and the most divine selection of French bakery goodies. Per Fog Crest Vineyard tradition, Mother's Day also brought the release of our 2016 Rosé, which in our book, is the official beginning of Rosé season!
Our guests happily watched the colorful splendor as Spring and Summer brought bud break and veraison to the vineyard. The spectacular views called our winery visitors to the sun washed patio to linger with a glass of wine and revel in the company of friends.
First Fridays continued to grow as a Fog Crest Vineyard tradition, with local visitors looking forward to the longer tasting room hours to meet with friends and relax into the weekend. Our guest food trucks provided myriad opportunities to experiment with new and exciting food and wine pairings with fare that included souvlaki, pizza, tacos, crepes, tri-tip, and delicious vegetarian offerings made from locally sourced fruits and vegetables.
Before we knew it, Summer was ending and the first grapes were being harvested! Fall was on its way, and with it the crazy, exciting hustle and bustle of harvest 2017. Unfortunately, Fall also brought the tragedy of the massive wild fire that ravished our beloved wine country. Fog Crest Vineyard was untouched by the fire, but we all felt the power of solidarity as the entire California wine community worked together to recover and rebuild. Our November First Friday went on as planned but served double duty as a celebration of life and a fund raiser for CA Wine Strong.
That same weekend we participated in the 19th Annual Wine & Food Affair, the premier event held by the Wine Road of Sonoma County. The Duck Empanadas, prepared by Chacho's Catering, were a huge hit paired with our Pinot Noir.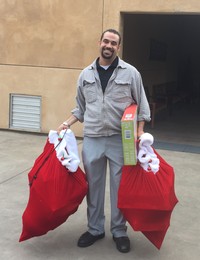 As the joy of the holidays took hold, we looked forward to our year end holiday party, which took on the form of a "tamalada". This delicious Latin holiday tradition brings together friends and family for a day of fun, making the tamales to be shared during the Christmas season. We brought back Chacho's Catering to provide the tamales for our visitors and wine club members to enjoy with our wines while they shopped for gifts and picked up their holiday wine club shipments. We were so grateful to everyone who brought a toy to the tasting room during our Annual Holiday Toy Drive and thrilled to be able to deliver two bulging Santa's bags full of toys to the Santa Rosa Firefighter Local 1401 station.
We'd like to thank everyone who has made each of our gatherings special. It is our pleasure and privilege to welcome you into our tasting room and share our passion for food and wine with you. We've got some fun events planned for you in 2018. Check our Facebook page for all the latest announcements and details. We look forward to seeing you soon!
Comments
Commenting has been turned off.
Recent Posts
February 20, 2019

January 11, 2019

October 23, 2018

October 9, 2018

April 23, 2018

March 23, 2018

February 24, 2018

January 19, 2018

January 17, 2018

December 18, 2017
Blog Categories
Blog Archives
Our Writers