September 5, 2017 | Fog Crest Vineyard
Harvest - The End of Hangtime
It seems like we were just talking about winter pruning and yet, here we are preparing for harvest. Tanks and machinery have all been cleaned and calendars have been cleared for that moment when the grapes are just right. When they're ready it's all hands on deck!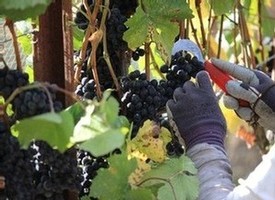 We like to pick both the Pinot Noir and the Chardonnay in the coolness of the morning when the sun is just about ready to rise. There is rhythmic beauty as the pickers skillfully use their knives to quickly remove the heavy clusters from the vine and fill their hand bins. Once a bin is filled, it is emptied into the half ton bins which are then hauled off to the winery. Once at the winery, the bins are emptied onto the sorting table, where we meticulously hand remove all the MOG, material other than grapes, leaves and bad bunches.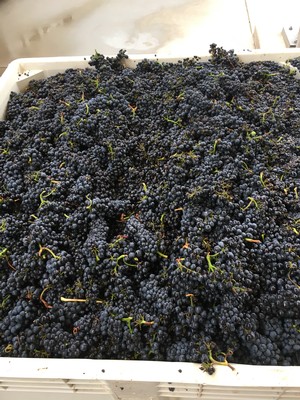 The next step for the Pinot Noir is the de-stemmer. Unlike the Chardonnay, there is no whole cluster fermentation for the Pinot. Once off the stems, the Pinot grapes go into open fermenters where they will cold soak for 3-4 days. We keep the temperature cool during this time to keep fermentation from happening so that we can get some extraction from the skins. At the end of that time, we'll let fermentation begin, and that entire process will take place in the open fermenters.
During the fermentation process, a cap or crust will form on top of the grapes. To keep this cap from creating bacteria, we keep it moist by punching it down about 5 times a day. (No need for gym visits during harvest)
After fermentation, the juice is pumped into barrels. The fruit that is left at the end of the pumping sits and the resulting free run juice is also collected and put in separate barrels.
Our Chardonnay is whole cluster pressed. The juice is then pumped into a tall stainless steel tank to allow it to settle. Within 1 to 2 days the juice is pumped into barrels for fermentation, known in wine production as "barreling down".
The sights and smells of harvest and fermentation are heady. It's our curtain call, but it's not glamorous. It's crazy, non-stop action. Our crush pad is a frenzy of movement – humans and machines working together to preserve and ultimately bring out the best that Mother Nature has given us. There's no text book here – just experience and gut instinct…and a passion for the fruit of the vine.
Video - Harvest at Fog Crest Vineyard
Comments
Commenting has been turned off.
Recent Posts
February 20, 2019

January 11, 2019

October 23, 2018

October 9, 2018

April 23, 2018

March 23, 2018

February 24, 2018

January 19, 2018

January 17, 2018

December 18, 2017
Blog Categories
Blog Archives
Our Writers