September 19, 2017 | Fog Crest Vineyard
Fun Facts About the California Wine Industry
September is California Wine Month. It was first designated in 2006 by then Governor Schwarzenegger as a way of applauding California's vintners and wine grape growers for their economic contributions and "steadfast commitment to the highest standards of excellence".
We thought this would be an opportune time to share some fun facts about the California wine industry and wine grape growing.
Winemaking in California began in 1769 with the Franciscan fathers. Compare that to places like Armenia or Italy where winemaking can be traced back 4000 years, and it's pretty humbling. But, in that short time we've come a very long way.
California Chardonnay: The first documented planting of Chardonnay in California was by Charles Wetmore in 1882 in Livermore Valley. In 1896 Paul Masson planted his vineyard in the Santa Cruz Mountains with chardonnay cuttings imported from France. But it was the dedication of Ernest and Herman Wente - beginning in 1912 and spanning over 30 years - to cultivating Chardonnay vines ideally suited to the growing conditions of Livermore Valley, that would eventually make Chardonnay California's leading wine varietal.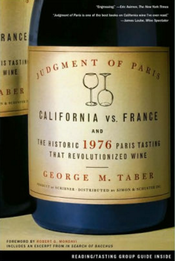 California wine attained global celebrity with the Judgment of Paris in 1976 when 2 California wines, the 1973 Chardonnay from Chateau Montelena and the1973 Cabernet Sauvignon from Stag's Leap Wine Cellars, took top honors over French wines in a blind tasting.
Judgment of Paris: California vs. France and the Historic 1976 Paris Tasting That Revolutionized Wine – by George M. Taber
Sonoma County, where Fog Crest Vineyard is located, is home to the state's oldest commercial winery, Buena Vista, founded in 1857 by Agoston Haraszthy who is often referred to as "The Father of California Wine". It is also home to the oldest, continuously operating family winery, Gundlach-Bundschu, founded in 1858. The county now has 17 registered American Viticulture Areas (AVA's) and over 400 wineries in operation.
Southern California, primarily the Los Angeles area, was the heart of the early wine industry in the 19th century, with vineyards planted along the banks of the Los Angeles River. In the 1870's there were so many grapevines that Los Angeles was nicknamed the "City of Vines". San Antonio Winery is the oldest producing winery in Los Angeles and is still family owned and operated.
By the beginning of the 20th century San Francisco had become the wine capital of America, with vast amounts of wine kept in storage facilities within the city. The catastrophic earthquake of 1906 left the city in ruins and with 10,000,000 unsalvageable gallons of wine flowing through the streets, resulting in a restructuring that would call for bottles to be stored closer to the vineyards, creating what we now fondly refer to as "wine country".
We hope these fun facts about California wine have inspired you to spend some time this month exploring our wine region of Sonoma County or any California wine region. Our state's wine regions offer uniqueness or "terroir", diversity of wines and tasting experiences, gorgeous landscapes and outstanding dining opportunities.
Here's some sample California wine adventures to try.
Comments
Commenting has been turned off.
Recent Posts
January 11, 2019

October 23, 2018

October 9, 2018

April 23, 2018

March 23, 2018

February 24, 2018

January 19, 2018

January 17, 2018

December 18, 2017

December 18, 2017
Blog Categories
Blog Archives
Our Writers