June 17, 2015 | Fog Crest Vineyard
Fog Crest Vineyard Celebrates Bastille Day
Bastille Day is July 14th, but we're celebrating on the 18th with our favorite Frenchman, our winemaker Jérôme Chéry.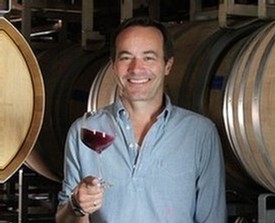 Join us on the patio overlooking the Laguna de Santa Rosa while Jérôme shares our wines and describes how they pair with some classic French dishes. Jim will regale us with his stories of his visits to France which would later serve as the inspiration for Fog Crest Vineyard.

Of course there will be plenty of great French food paired with our wines and lively conversation. Chef Heidi West will once again be preparing our 4-course feast in honor of the celebration. The fun begins at 6:30 - hope you can join us! Mercí!
Dinner Menu:

APPETIZERS:

Smoked and Steamed Salmon Rillettes on Toasted Sliced Baguette

Wild Mushroom Croquettes with Chardonnay Cream


FIRST COURSE:

Salad of Butterleaf, Rocket and Frisee, Lardons of Bacon, Poached Egg, Torn Garlic Crouton and Shallot Vinaigrette


MAIN COURSE: Choice of....

Duck Confit
White Beans with Roasted Garlic, Rosemary and Lavender
Ronde de Nice Squash, Tomato and Onion Saute
or
Bouillabaisse
Halibut, Seabass, Shrimp, Clams and Mussels in a Saffron Infused Stock laced with Pernod and served with Rustic Crouton and Sauce Rouille

DESSERT:

Classic Crème Brulee

Price per person: $110.00 PURCHASE TICKETS HERE

$95.00 Wine Club Members:
(please login to your member account first HERE)
Please e-mail your entree choice to info@FogCrestVineyard.com
Comments
Commenting has been turned off.
Recent Posts
January 11, 2019

October 23, 2018

October 9, 2018

April 23, 2018

March 23, 2018

February 24, 2018

January 19, 2018

January 17, 2018

December 18, 2017

December 18, 2017
Blog Categories
Blog Archives
Our Writers