November 13, 2015 | Food and Wine, Wine Country Recipes | Fog Crest Vineyard
Fall Entertaining - That "Special" Dinner
Fall Entertaining - A special pork roast with seasonal sides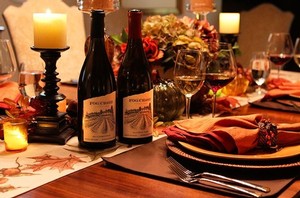 September brought the end of harvest, October changed the vineyard into a sea of shimmering red and gold, and November brings thoughts of home, family, friends and the flavors of Fall - all the tastes and textures that reflect the seasonal bounty of vegetables, stews and slow roasted meats, everything pumpkin, cinnamon and baking spice, and the grand finale that is Thanksgiving dinner with the glory of the roasted turkey.
But if you're thinking about forgoing the traditional bird or looking for something to serve on one of the other 29 days of the month, we offer for your consideration, one of Jim's favorite recipes for Roasted Pork Loin, this one stuffed with Prunes, and served on a potato fritter. It provides an impressive presentation, it's easy to prepare and it pairs nicely with both Chardonnay and Pinot Noir. On the side, roasted butternut squash and crisp green beans with sliced almonds keeps it simple but delicious. Don't forget to save a little room for dessert, but we'll leave that up to you.
Roast Loin of Pork with Prunes
Serves: 8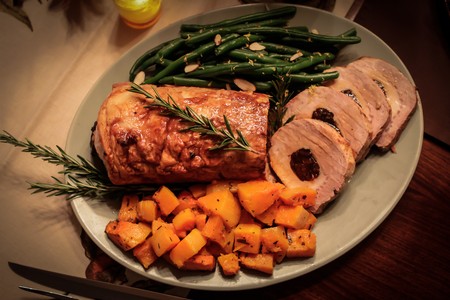 Ingredients:
1 boneless pork loin roast (4lbs)
1/2 c dried prunes
2 Tbsp olive oil
2 carrots diced
2 stalks of celery diced
1 yellow onion diced
1 head of garlic, halved
1 branch of rosemary
3 sprigs of sage
1/2 c white wine
1 c good chicken stock
2 T unsalted butter
Salt & Pepper
Directions:
Preheat oven to 450°F. Bore a hole (about nickel size) in the center of the roast lengthwise.(start with a knife and then use a cooking spoon handle wrapped in plastic wrap to make the hole - best to come at it from both sides) Stuff with the dried prunes. In oven-proof pan with 2 Tbsp olive oil, brown roast about 3-4 minutes each side. Add carrots, celery, rosemary, sage, and garlic. Transfer to the oven and roast 40 minutes until internal temp is 150°. Remove to cutting board and let rest 15 minutes. In roasting pan, add wine and reduce by 1/2. Add stock and reduce by 1/2 again. Strain out the solids, return to pan and stir in butter to complete the jus.
Potato Fritters
2 lbs potatoes peeled
1 egg
2T peanut oil
2 t butter
Salt & Pepper

Grate potatoes add egg and season with salt and pepper. Heat 2T of oil. Using 1/3 c of the potato mixture for each fritter, form discs about 3 inches in diameter. Cook over Medium high heat for 5 minutes then add butter and cook 5 minutes more. Carefully flip fritters over and cook an additional10 minutes.

Serve a 1/2 inch slice of pork on a fritter and spoon a little jus over the whole thing.
Blanched Green Beans: In a large pot of salted boiling water, cook green beans until bright green in color and tender crisp, about 2 minutes. Drain and shock in a bowl of ice water to stop from cooking. Heat a large heavy skillet over medium heat. Add some olive oil and butter to pan - add green beans and toss to coat. Serve with sliced almonds.
Roasted Butternut Squash: Set oven to 400°. Cut squash into 1inch cubes. Toss with olive oil, salt and pepper. Spread out on sheet pan in a single layer and roast about 30-40 minutes or until fork tender and starting to brown.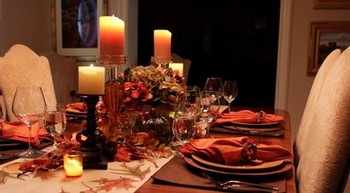 Thanksgiving or any Sunday dinner with the family is a perfect opportunity to use the "good china" and silverware. Set your table to reflect the fall festive mood. Place gourds, pumpkins, ornamental corn, fresh or dried flowers, and glass and ceramic pieces down the center of the table, perhaps on a coordinating runner. Plenty of candles placed at different heights add a magical glow that will invite guests to linger at your table enjoying the conversation, pie, and maybe one more glass of wine.
Photo credit: Shawn Burgert
Comments
Barbara
@ Nov 17, 2015 at 5:03 PM
What a scrumptious dinner menu and wine pairing! Delightful tablescape, too. :-)
Recent Posts
January 11, 2019

October 23, 2018

October 9, 2018

April 23, 2018

March 23, 2018

February 24, 2018

January 19, 2018

January 17, 2018

December 18, 2017

December 18, 2017
Blog Categories
Blog Archives
Our Writers