December 18, 2017 | Fog Crest Vineyard
Celebrating the 2017 New Olive Oil from Italy
Every year after harvest is complete and the wines are safely tucked away in the winery, James begins to plan our annual celebration of the new olive oil from Italy - the freshly bottled, cold-pressed, extra virgin oil that still has the freshness and intensity of just picked olives. New oils skip the holding period of traditional oils and go straight into bottle for immediate release and consumption.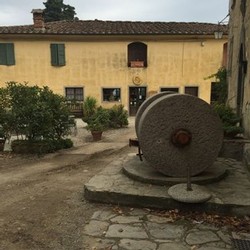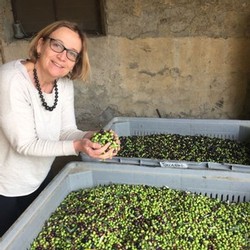 Photo credit: manicaretti.com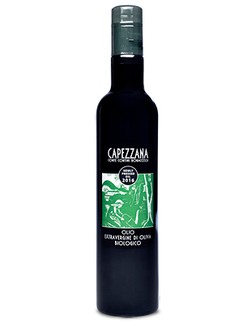 This year's culinary celebration will showcase the new oil from the Contini Bonacossi family estate, Tenuta di Capezzana in Tuscany about 25 minutes northwest of Florence, in the wine growing region of Carmignano. This certified organic oil, made from olives grown on the hills above the vineyards, was pressed within 24 hours of harvesting in mid-October 2017. The blend of olives, primarily Moraiolo and Frantoio, results in an elegant, complex oil with classic Tuscan pungency.
The oil can be used in dressing for grilled fennel and zucchini, or drizzled over greens, pasta, potatoes, soup or salad, elevating simply prepared foods to levels of greatness. A cake made with semolina, oranges and pistachios becomes a show stopping finish when made with the creamy textured olive oil.
For this year's celebration at the winery, Jim's choice of dishes to showcase the oil include, artisan bread, hand carved prosciutto, Mesclun salad, caponata, red onion soup, truffled mousse paté, and fondue. These dishes, paired with our wines, will surely provide an evening of gustatory delights and the perfect way to celebrate the new year.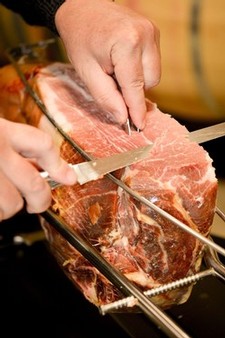 This special First Friday event is open to our Wine Club members and their guests. For more information or to purchase tickets, click here.
Comments
Commenting has been turned off.
Recent Posts
January 11, 2019

October 23, 2018

October 9, 2018

April 23, 2018

March 23, 2018

February 24, 2018

January 19, 2018

January 17, 2018

December 18, 2017

December 18, 2017
Blog Categories
Blog Archives
Our Writers