December 18, 2017 | Food and Wine, Wine Country Recipes | Fog Crest Vineyard
Baked Brie - An Appetizer for all Seasons
This recipe for Baked Brie with Mushrooms is easy, fast and pairs beautifully with Chardonnay and Pinot Noir.
The holidays are upon us. Cars with trees tethered precariously to their roofs are making their way through traffic filled streets, headed to homes where they will take their place as the center of attention around which all events will take place. Wrapping paper and ribbon monopolize the kitchen table before relinquishing that valued real estate to cooling racks laden with freshly baked cookies. Pandora is playing a shuffle of all your favorite holiday tunes. Invitations and greeting cards are strewn about, some coming in, some going out. The stockings are all hung by the chimney with care and perhaps you're stressing 'cause St. Nicholas soon will be there…and you're just not ready! And….. you've been asked to bring an appetizer to the office party tonight. Wouldn't it be nice if you had a "go to" appetizer recipe that was a sure thing crowd pleaser?
Brie to the rescue! This soft, creamy cow's milk cheese with the tangy white rind makes frequent appearances on cheese boards, and goes well with condiments that run the gamut from sweet fig jam to savory herbs and spicy chipotle. One of our favorite ways to serve this chameleon of a cheese is covered in a luxurious mixture of wild mushrooms and thyme and baked until the combined melted goodness is ready for spreading on thin slices of crispy baguette. This recipe is super simple to make, doesn't take a lot of time, and is sure to garner you praise from all the hungry party goers. The flavors of the creamy brie and the earthy mushrooms make this the perfect appetizer pairing for both Chardonnay and Pinot Noir. Score! You're an appetizer hero!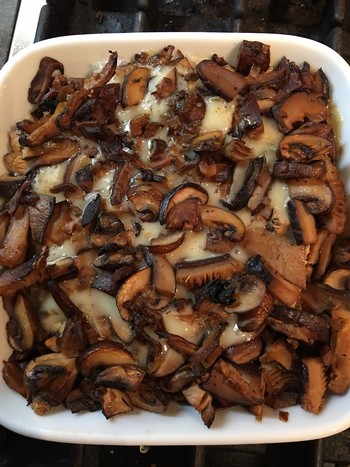 Baked Brie with Wild Mushrooms
Ingredients:
1/2 oz dried mixed wild mushrooms
2/3 cup fog Crest Vineyard Pinot Noir
2 Tbsp butter
6 oz crimini mushrooms, rough chopped
6 oz shitake mushrooms, stemmed, sliced
2 Tbsp minced shallot
2 tsp. Chopped fresh thyme
1 13-14 oz brie (about 5 inches in diameter)
1 baguette, sliced 1/4 inch, toasted
Directions:
Place dried mushrooms and wine in small saucepan. Bring to simmer over low heat; remove from heat. Let soak until soft, about 20 minutes. Using slotted spoon, transfer mushrooms to work surface and coarsely chop. Strain wine into small bowl and reserve.
Melt butter in large skillet over medium-high heat. Add crimini and shiitake mushrooms. Sprinkle with salt and pepper and cook until brown, stirring occasionally, about 8 minutes. Add shallot and stir until soft, about 1 minute. Add reserved wild mushrooms and wine. Boil until almost dry, about 1 minute. Stir in thyme. Season to taste with salt and pepper. Cool.
Using sharp knife, cut top rind from tie and discard. Place Brie in square dish just slightly bigger than cheese. Mound mushroom mixture atop and around cheese. **
Bake at 350 degrees until cheese begins to melt and mushrooms are warmed through, about 15 minutes.
Serve with toasted baguette slices.
**Can be made ahead to this point. Cover with plastic wrap and refrigerate. Bring to room temperature about 15 minutes before baking.
Wine pairing: Fog Crest Vineyard Estate Chardonnay or Pinot Noir
Comments
Commenting has been turned off.
Recent Posts
January 11, 2019

October 23, 2018

October 9, 2018

April 23, 2018

March 23, 2018

February 24, 2018

January 19, 2018

January 17, 2018

December 18, 2017

December 18, 2017
Blog Categories
Blog Archives
Our Writers