July 28, 2014 | Food and Wine | Fog Crest Vineyard
"Chef" - the Movie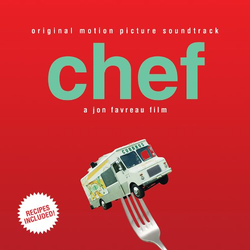 If you…. are a foodie, love to cook, enjoy food porn, long to take a road trip, wish you had more quality time to spend with family, lack a creative outlet, have an unfulfilled passion, frequent gourmet food trucks or love upbeat latin music….go see "Chef"!
Jon Favreau stars as a brilliant chef whose restaurant owner boss would rather him be safe and not so brilliant. It gets way too hot in the kitchen when the two clash over what menu to serve a big deal food critic, played by Oliver Platt, coming in to review. When the pot boils over "chef" is booted from the kitchen with a car full of gourmet goodies which he then goes home and prepares anyway. (There's plenty of food porn in this movie, so don't go to the theater hungry)
Enter chef's ex-wife, the incredibly endearing (ok, gorgeous!) Sofia Vergara, who suggests that he get a food truck and cook whatever he wants to find and fulfill his gastronomic passion. Now if you live in Los Angeles, this is where the story begins to sound familiar. Think Roy Choi and Kogi Truck – the chef that started the food truck craze in L.A. The movie goes on to serve up hearty portions of friendship, parental redemption, yes, more food porn and a super sweet ending.
Today, in cities across the country, food trucks have been elevated to gourmet kitchens on wheels, bringing foods of all flavors, trends, styles and ethnicities right into the heart of the communities. Many of these trucks are helmed by talented chefs with a strong passion to share their culinary creations. We are having such a good time with our featured guest food truck each month at our "First Friday's" here at the Fog Crest Vineyard Tasting Room. We love to see how the smells and flavors, spices and textures pair with our wines. There is always a measure of excitement in the air as visitors try new foods and new pairings. Pastrami and Pinot Noir? Sushi rolls and rosé? It's all good!
While we savor the memory of this delicious movie, we'd really like to thank you for all your support over the years. It is because of you that we get to do what we do. It is because of your passion for seeking out and experiencing fine wine that Jim gets to be a farmer, tend his vineyard and work with Jerome to create a product of their passion that we can share with you. We look forward to many opportunities to raise a glass and toast to friendship, family, love, great food….and passion. Cheers!
"I get to touch peoples lives with what I do, and I love it" - Chef Carl Casper
Comments
Recent Posts
January 11, 2019

October 23, 2018

October 9, 2018

April 23, 2018

March 23, 2018

February 24, 2018

January 19, 2018

January 17, 2018

December 18, 2017

December 18, 2017
Blog Categories
Blog Archives
Our Writers