Sole à la Mueniére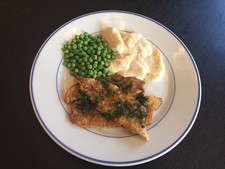 Recipe Date:
April 1, 2017
Measurements:
Imperial (US)
Ingredients
4 Dover sole
1 tsp salt
1/2 cup all purpose flour
5 tbsps peanut or canola oil
8 tbsps unsalted butter
3 tbsps lemon juice
3 tbsps Italian parsely chopped
fresh ground pepper to taste
Directions
Preheat oven to 300° F
Dry both sides of the sole and season with salt and pepper.
Dredge the fish in the flour and shake off excess.
Heat 2 Tbsp of oil over medium/high heat. Add 2 fillets and brown 3 minutes on each side. Remove and place in oven to keep warm. Repeat with remaining fillets.
Wipe skillet clean and add butter to the pan over medium heat.
Cook stirring occasionally until butter turns brown.
Add lemon juice, parsley, salt and pepper to taste.
Plate the fillets and spoon sauce on top.