Salmon with Mashed Peas and Tarragon Butter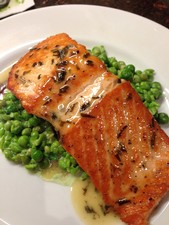 Recipe Date:
April 22, 2017
Measurements:
Imperial (US)
Ingredients
1 lb frozen peas (3 cups)
7 tbsps unsalted butter
1/2 cup heavy cream
Kosher salt
7 Freshly ground pepper
1 cup dry white wine
2 tsps lemon juice
2 tbsps fresh chopped tarragon
4 6 oz salmon fillet
2 tbsps olive oil
Directions
1. In a saucepan of boiling water, cook the peas until tender, 3-4 minutes. In th same saucepan, melt 1 Tbsp of the butter in the cream. Add the peas and mash with a potato masher until chunky. Season with salt and pepper and keep warm.
2. In a small saucepan, simmer the wine with the lemon juice over moderate heat until reduced to 1 Tbsp, 8-10 minutes. Reduce the heat to low and whisk in the remaining 6 Tbsp of butter,one Tbsp at a time, until the sauce is thickened. Whisk in the tarragon and season with salt and pepper. Transfer the sauce to a small bowl and keep warm.
3. Heat a grill pan. Rub the salmon with the olive oil; season with salt and pepper. Grill over moderate heat, turning once, until browned and just cooked through, 10-12 minutes. Spoon the mashed peas onto a plate, top with piece of salmon and drizzle with sauce.