Rosemary Flatbread with Gorgonzola and Grapes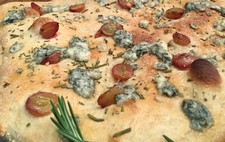 Recipe Date:
April 26, 2017
Measurements:
Imperial (US)
Ingredients
1 package pre-made pizza dough
2 tsps chopped fresh rosemary
1 cup red grapes, halved
Sea Salt
3 ozs (1/2 cup) crumbled gorgonzola
Directions
Preheat oven to 450°
Line a cookie sheet with foil and sprinkle with corn meal or flour. Press and stretch the dough into a 13"x8" rectangle. Press grapes into the dough and sprinkle with sea salt.
Bake for about 12 minutes, until the crust is golden and the grapes have begun to release some of their juices. Sprinkle the gorgonzola on top and bake for about 2 minutes longer, until cheese melts.
Slide flatbread onto a cutting board, cut and serve.