La Doba a la Nissarda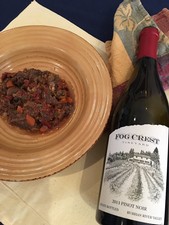 Recipe Date:
October 10, 2016
Measurements:
Imperial (US)
Ingredients
4 lbs beef chuck, cut in 2
1 tbsp unsalted butter
2 tbsps olive oil
4 cloves of garlic, minced
2 yellow onions, chopped in small dice
2 ribs of celery, small dice
4 carrots, small dice
8 peeled tomatoes, rough chop
1/2 cup Marc du Jura (or 2 Tbsp brandy or cognac)
2 1/2 cups dry red wine
2 ozs dried porcini muchrooms
1 tbsp espresso, brewed not powdered
1 tbsp veal demi glace
1 bouquet garni (1 bay leaf, 2 sprigs of thyme, 2 sprigs of parsley)
Salt and pepper to taste
Directions
Season meat generously with salt and pepper and brown in large pot with olive oil and butter over medium-high heat. Remove meat from pot and set aside.
Add onions, celery and carrots to pot and cook to soften. Add garlic and cook 2 minutes longer. Add marc or brandy to deglaze pan. Return meat to pot along with  wine, tomatoes and bouquet garni. Simmer, covered, 3 hours.
While meat is cooking, soak dried porcini in hot water for 15 minutes. Drain, rinse and coarsely chop.  Add to pot along with espresso and demi glace. Simmer one more hour. 
Note: Can thicken sauce, if desired, with a mixture of 1 cup of red wine and 2 Tbsp of flour.  Make sure flour is well incorporated into wine before adding to doba half way through cooking.