Kufté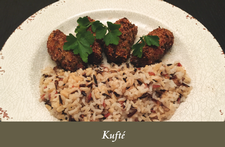 Recipe Date:
April 9, 2017
Measurements:
Imperial (US)
Ingredients
1 lb ground beef or lamb/beef mixture
1 clove garlic
1/4 cup parsely minced
1 tsp ground cumin
1/2 tsp papkrika
1 tsp salt
3 tbsps white wine
1 egg yolk
1/3 cup chopped onion
1/8 tsp cinnamon
1/4 cup Panko bread crumbs
3 tbsps unsalted butter
1 tbsp olive oil
Directions
Preheat oven to 425°
Sauté garlic & onion in 1T unsalted butter and 1T olive oil until softened.
Combine all ingredients reserving 2T butter and bread crumbs.
Mix together well and form into thumb-shaped patties.
Heat 1T butter in pan and arrange patties. Sear on both sides.
Cook in oven at 425° for 25-30 minutes
Serve with a glass of Fog Crest Vineyard Laguna West Pinor Noir and rice pilaf.