Grilled Chicken Achiote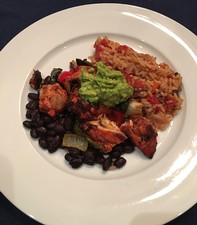 Recipe Date:
April 25, 2017
Measurements:
Imperial (US)
Ingredients
2 lbs boneless chicken thighs
1/4 cup olive oil
6 tbsps Achiote Paste, 3.5 oz
3/4 cup orange juice
1/4 cup lemon juice
1/2 white onion, diced
2 poblano chiles, roasted, peeled, seeded and diced
1 red bell pepper, roasted, peeled, seeded and diced
1/4 cup olive oil
3 whole garlic cloves, peeled
Directions
Combine the marinade and mix well, then add the meat. Marinate overnight in the refrigerator.
To roast peppers, remove stems and seeds, cut into quarters, lengthwise and place on oiled baking sheet. Roast at 400 degrees about 25 minutes, until skin starts to char, flipping halfway through cooking time. When charred and tender, remove from oven and place in brown paper bag, tightly closed, about 1 hour. Remove from bag and peel off skins.
Heat 1/4 olive oil in a sauté pan over medium heat, add the cloves of garlic and cook until lightly browned then discard the garlic and add the onions. Cook until clear, then add the diced chiles and pepper. Heat through and reserve.
Remove the chicken from the marinade and shake off excess. Place on a medium high grill, skin side down, and cook until the skin begins to brown, then flip. Continue to cook turning the chicken often until the juices run clear finishing on the skin side.(approx 20 min). Cut into 1" chunks and combine with the vegetables. (reheat prior if needed)
Serve with guacamole, warm tortillas, rice, and beans. Salud!