Fricassee of Chicken with Roasted Tomatoes and Chanterelles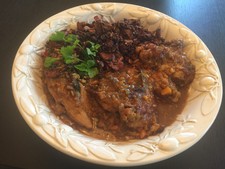 Recipe Date:
March 2, 2017
Measurements:
Imperial (US)
Ingredients
12 cherry tomatoes
2 tsps fresh thyme, chopped
2 cloves garlic, minced
1 4-4 1/2 lb free range chicken
10 tbsps unsalted butter
1 medium yellow onion, chopped
1 carrot, chopped
1 celery rib, chopped
1 bouquet garni (place 1 sprig of fresh thyme, parsley and rosemary and 1 bay leaf in cheese cloth and tie into bundle)
1 tbsp all purpose flour
2 cups Chardonnay
2 tbsps chicken broth
8 ozs chanterelle mushrooms
1 shallot, minced
4 ozs bacon, chopped
olive oil
salt and pepper
Directions
Preheat Oven to 275º
Blanch and peel tomatoes then halve and squeeze out liquid. Place tomatoes on a baking sheet lined with parchment paper. Drizzle with olive oil, sprinkle salt, thyme and 1 clove of minced garlic and roast at 275º for 1 ½ hours.
Cut chicken into quarters. Heat 4 T butter with 2 T olive oil in a large skillet. Add chicken and brown over medium heat. Remove browned chicken from pan and set aside. Lower temperature to medium and sauté remaining clove of garlic and onion 5 minutes, then add carrot and celery rib and cook another 5 minutes. Sprinkle with flour and continue to cook until the flour is lightly brown. Return chicken to pan and add the bouquet garlic. Pour in wine and enough chicken broth to cover chicken. Cover and simmer for 30 minutes.
Trim and clean mushrooms and cut larger ones in half. Pat dry. Heat 2 T butter in a large skillet on high heat. Cook mushrooms until all the water the mushrooms give off has evaporated. Season with salt and pepper.
Sauté shallot in 4 T butter. Add bacon and cook until done.
When chicken is done, transfer to a large serving plate. Strain cooking liquid and reduce by 1/3.
Arrange mushrooms and tomatoes on the serving plate. Spoon jus over the chicken. Sprinkle the shallot/bacon mixture over chicken as well.