Duck Empanadas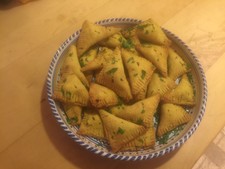 Recipe Date:
June 14, 2017
Measurements:
Imperial (US)
These little hand pies is filled with a gourmet filling of duck breast and onion simmered in wine.
Ingredients
3 cups all purpose flour
2 tsps salt
1 tsp sugar
1 tsp curry powder
10 tbsps duck fat
1 egg yolk (save white for duck mixture)
1/2 cup cold water
3/4 lb duck meat, finely chopped (roughly 1 breast)
2 tbsps olive oil
1 clove garlic, minced
1 yellow onion, minced
1/2 tsp black pepper
1 tsp thyme
1 tsp salt
1/4 cup Italian parsley, chopped
1/2 cup white wine or duck/chicken stock
1 egg white
2 tbsps water
Directions
For Dough:
Sift flour, salt, sugar and curry powder into a bowl. Add the duck fat and mix well. Add egg yolk and 1/4 cup of cold water. Knead dough. Slowly add the last 1/4 cup water, a little at a time, until dough is firm. Knead dough for a quick minute until smooth. Wrap dough in plastic wrap and let rest in the refrigerator until ready to use.
For Filling:
In a sauté pan, heat olive oil. Add onion and cook until the onions turn clear, then add garlic and cook 1 minute longer. Add duck meat and cook 2-3 minutes. Add wine, salt and thyme and cook until the liquid is mostly evaporated. Remove from heat and refrigerate overnight or until thoroughly cooled. Add parsley after the mixture has cooled and mix. Prepare a "sealer" for empanadas in a bowl by mixing egg white with 2 Tbsp of water.
Preheat oven to 375 degrees.
On a lightly floured board, roll out dough to 1/8 inch thickness. Cut into 4-inch squares. The dough should make 16 squares. Place 1 Tbsp of the duck mixture in the center of each square. Moisten the edges of the pastry with the egg white sealer and fold into a triangle, pressing the edges down with your fingers or the tines of a small fork to seal. Prick the top of each empanada with a fork and repeat until all empanadas are assembled.
Place empanadas on a parchment lined baking sheet. Bake 25-30 minutes until golden.