Crab Cakes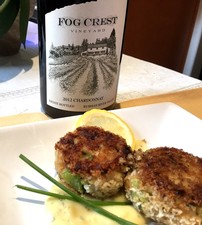 Recipe Date:
November 7, 2016
Measurements:
Imperial (US)
Ingredients
1 tbsp unsalted butter
1/3 cup minced celery
1/4 tbsp mayonnaise
2 green onions, minced
1 tbsp chopped chives
1 egg, beaten
1 tsp dry mustard
1 tsp "Old Bay" seasoning
2 tsps Worcestershire Sauce
2 tsps lemon juice
1 16-oz can lump crab meat
3/8 cup Panko bread crumbs, plus more for coating cakes
salt and pepper to taste
2 tbsps peanut oil
1 tbsp unsalted butter
Directions
Heat 1 Tbsp butter in small pan and soften celery. Let cool to room temperature.
In medium bowl gently combine celery and next 10 ingredients. Chill for 1 hour.
Form crab mixture into 12 2-inch cakes and gently roll in additional bread crumbs.
Heat 2 Tbsp oil and 1 Tbsp butter at medium heat in fry pan. Cook cakes till dark golden brown, about 3 minutes on each side. Serve warm with a lemon aioli or red pepper remoulade.