Butternut Squash and Mushroom Risotto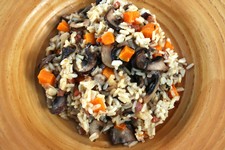 Recipe Date:
April 28, 2017
Measurements:
Imperial (US)
Ingredients
2 cups butternut squash, peeled and diced
6 cups chicken stock
4 ozs pancetta, diced
2 tbsps olive oil
1 medium onion, diced
4 tbsps butter
1 cup Arborio rice
1/2 cup white wine
2 tsps minced garlic
2 tbsps fresh thyme
4 ozs shitake mushrooms, thinly sliced
8 ozs crimini mushrooms, thinly sliced
1/3 cup grated Parmesan cheese
Directions

Pre-heat oven to 400°.
Toss squash with 1 T. of oil and place on greased cookie sheet – roast
20 minutes till just tender. Set aside.

In medium pan, melt 2 T. butter. Add mushrooms and cook till browned and liquid evaporates.
Season with salt and pepper. Set aside.

In large saucepan, heat chicken stock over low heat and keep warm.
In large pan heat 1 T. olive oil and cook pancetta till browned. Add onion and sauté till soft. Add rice and stir for 2 minutes. Add wine and simmer till absorbed. Add 1 cup of warmed stock and stir until absorbed. Continue adding stock and stirring until rice is "al dente" tender. Stir in thyme, squash and mushrooms, another ½ cup of stock, cheese and 2 T. butter, salt and pepper to taste.
Serves 6 as a side dish