Braised Italian Sausage with Fennel and Cabbage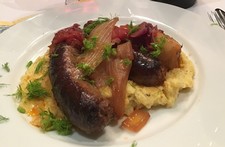 Recipe Date:
March 28, 2017
Measurements:
Imperial (US)
Ingredients
1/4 cup olive oil
12 sweet or mild Italian Sausages 2-2 1/2 lb
3 large fennel bulbs trimmed and cut into wedges save fonds
3 cups thinly sliced red cabbage
1 medium onion chopped
4 cloves garlic minced
1/2 tsp fennel seeds, crushed
1 tsp salt
1/4 tsp Creole seasoning
1 28 oz can whole tomatoes, hand-crushed, with juices
1 cup dry white wine
Directions
In a large heavy dutch oven, heat oil. Add half of sausage and cook over medium heat turning until evenly browned, about 5 minutes. Remove and repeat with remaining sausage. Remove sausage from pan.
Add fennel and cook until golden brown about 5 minutes.
Add cabbage, onion, garlic, fennel seeds, salt, and Creole seasoning stir while cooking for 3 minutes.
Add wine and tomtoes with juices. Return sausage to sauce.
Cover and cook over low heat for 15 minutes.
Uncover and simmer until suasages are cooked through, and sause has thickened about 45-50 minutes.
Served over polenta with gorgonzola and marjoram, and garnish with minced fennel fronds.