August 22, 2016 | Fog Crest Vineyard
What is a "Dinner in White"
Originating in France, the traditional Summer fête, "Dinner in White" is becoming popular across the globe.
It seems everyone wants to receive a coveted invitation to this annual summer event, attended by thousands in cities around the world. But it is in France where it all began when in 1988, the first official Dîner en Blanc took place in the Parc de Bagatelle in the Bois de Boulogne, and was hosted by a man named François Pasquier. At first it was just a few invited friends, then those friends were encouraged to invite friends. As the numbers grew, the location of the event was not disclosed until the excited guests actually were loaded onto buses, dressed in their white finery and toting tables, chairs, food and champagne, then driven to the "secret" location. The events begin as the sun sets and goes on into the night, with nary a trace left behind when the morning comes. An evening of magic, mystery, gourmet food and wine, and the celebration of life and all it has to offer.
Cities all around the world now host similar events on summer dates of their choosing, and the format has become popular for private celebrations as well.
So...to celebrate the last days of Summer, Fog Crest Vineyard is excited to be hosting our first "Dinner in White" as part of the Sonoma Wine Country Weekend Winemaker Dinner Series being held on Friday, September 2, 2016. We've enlisted the fabulous Chef Heidi West to once again create a gourmet menu of dishes that will tantalize your palate and pair with our wines to complete this unique gastonomique experience.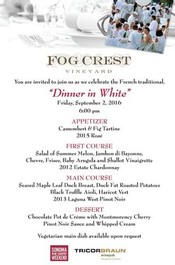 We hope you can join us under the stars, on our patio overlooking the vineyard, for this celebration and to raise a glass to toast ... to life!
Comments
Commenting has been turned off.
Recent Posts
January 11, 2019

October 23, 2018

October 9, 2018

April 23, 2018

March 23, 2018

February 24, 2018

January 19, 2018

January 17, 2018

December 18, 2017

December 18, 2017
Blog Categories
Blog Archives
Our Writers