October 13, 2015 | Food and Wine, Food and Wine, Wine Country Recipes | Fog Crest Vineyard
The Flavors of Fall - Butternut Squash and Mushroom Risotto
As soon as Fall comes around it seems like everyone begins to think of their favorite seasonal foods.
Fall is upon us, harvest is behind us, and we, like most everyone, have begun to think and prepare some of the wonderful foods associated with the season.
One of the most versatile and colorful seasonal vegetables available now is Butternut Squash. It can be roasted, sauteed, pureed, and made into sauces, pasta, roasted vegetable medleys and soups. In this recipe, we combine it with the earthy flavors of mushrooms for a comforting and delicious risotto that can be served as a main or side dish. It would be great alongside a roasted Pork Loin or Turkey Breast with some green beans to round out the color palette.
This recipe pairs perfectly with the Fog Crest Vineyard Estate Pinot Noir and the Fog Crest Vineyard Estate Chardonnay. Pour both and let your guests choose which they prefer - could be a toss up!
Butternut Squash and Mushroom Risotto
Serves 6 as a side dish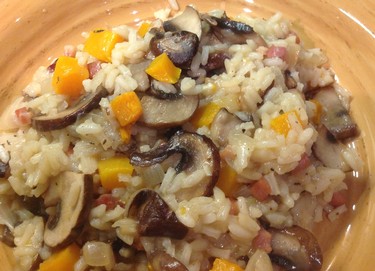 Ingredients:
2 cups butternut squash, peeled and diced
6 cups chicken stock
4 oz pancetta, diced
2 T. olive oil
1 medium onion, diced
4 T. butter
1 cup Arborio rice
½ cup white wine
2 tsp minced garlic
2 T. fresh thyme
4 oz shitake mushrooms, thinly sliced
8 oz crimini mushrooms, thinly sliced
1/3 cup grated Parmesan cheese
Method:
Pre-heat oven to 400 degrees (F). Toss squash with 1 T. of oil and place on greased cookie sheet – roast 20 minutes till just tender. Set aside.
In medium pan, melt 2 T. butter. Add mushrooms and cook till browned and liquid evaporates. Season with salt and pepper. Set aside.
In large saucepan, heat chicken stock over low heat and maintain.
In large pan heat 1 T. olive oil and cook pancetta till browned. Add onion and sauté till soft. Add rice and stir for 2 minutes. Add wine and simmer till absorbed. Add 1 cup of warmed stock and stir until absorbed. Continue adding stock and stirring until rice is "al dente" tender. Stir in thyme, squash and mushrooms, another ½ cup of stock, cheese and 2 T. butter, salt and pepper to taste.
Comments
Recent Posts
January 11, 2019

October 23, 2018

October 9, 2018

April 23, 2018

March 23, 2018

February 24, 2018

January 19, 2018

January 17, 2018

December 18, 2017

December 18, 2017
Blog Categories
Blog Archives
Our Writers