November 24, 2014 | Fog Crest Vineyard
Thanksgiving Recipes: Cornbread Stuffing with Italian Sausage
Stuffing is our favorite Thanksgiving side dish. We like it made with just about any kind of bread and veggie combinations, but this cornbread stuffing recipe is a particular favorite. Italian sausage gives it a fennel flavored twist.
Hear more about Thanksgiving at Fog Crest Vineyard and food and wine pairing for the big feast from James. Click image to watch our holiday video.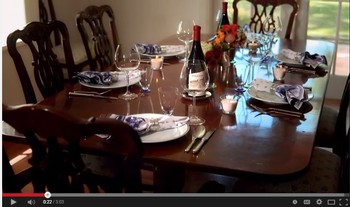 Check back tomorrow for our favorite recipe for the ultimate Thanksgiving comfort food - mashed potatoes.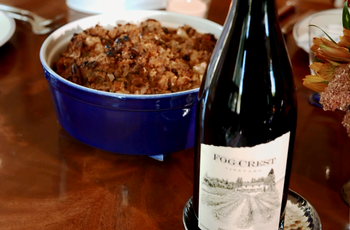 Ingredients:
8 cups dried cornbread cubes
½ cup butter
½ cup chopped onion
½ cup diced celery
½ cup diced carrot
1-2 cubed apples (we like Gala)
½ cup raisins
½ cup brandy (enough to cover raisins)
2-3 cups chicken broth
½ lb Italian sausage (casings removed)
1 Tbsp fresh sage
1 tsp fresh thyme
1 tsp fresh marjoram
¼ tsp fresh rosemary
1 tsp salt
¼ tsp freshly ground black pepper
Melt 2 Tbsp butter in a large skillet and sauté mirepoix (onion, carrot and celery) at medium low heat. The goal is to sweat the onions rather than brown them so keep your heat low. In a separate skillet, crumble and cook sausage. Place brandy in a small sauce pan and heat at a low temperature. Add raisins and leave until raisins are rehydrated. Melt remaining butter.
In large bowl, combine sautéed mirepoix, cubed apples, raisins, sausage, herbs, butter and cornbread cubes. Mix thoroughly with hands. Season to taste. Add chicken stock in ½ cup increments and mix with hands. Stop adding stock when stuffing mixture clumps in hand (similar to making a snowball) and transfer mixture to a large, shallow baking pan. Bake at 350 degrees for 20 – 30 min until mixture is hot and a light brown crust forms on top of the stuffing.
Serves 8.
Comments
Muscle rev Xtreme
@ Mar 13, 2015 at 12:38 AM
This is a spectacular article, and I would like more data in the event that you have any. I am intrigued with this theme and your post has been one of the best I have perused.
Recent Posts
January 11, 2019

October 23, 2018

October 9, 2018

April 23, 2018

March 23, 2018

February 24, 2018

January 19, 2018

January 17, 2018

December 18, 2017

December 18, 2017
Blog Categories
Blog Archives
Our Writers