November 24, 2014 | Food and Wine, Wine Country Recipes | Fog Crest Vineyard
Thanksgiving Recipes - Fresh Sautéed Green Beans with Slivered Almonds
While we love the traditional Thanksgiving "green bean casserole" with mushroom soup like everyone else, sometimes we like to make the fresh produce the star and keep it simple. Fresh beans, good extra virgin olive oil, fresh lemon and some crunchy almonds are a great alternative.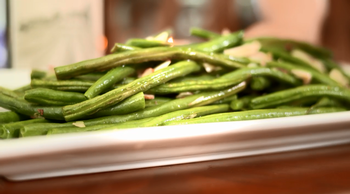 Fresh Sautéed Green Beans with Slivered Almonds
1 ½ lb green beans, stem ends trimmed
1 tablespoon olive oil
½ teaspoon finely grated lemon zest
¼ cup sliced almonds
Trim stem and ends from green beans. Blanch beans in a pot of salted water, uncovered, until beans are bright green (about 1 minute). Drain beans in a colander and transfer to a bowl of ice water. Drain.
Heat oil in a large skillet over medium high heat and add beans, lemon zest and almond slices, stirring, until they are tender, but still crisp. Remove from heat and season further to taste (we like some sea salt and freshly ground pepper).
Plate and serve immediately.
Serves 8 as a side dish.
Comments
Recent Posts
January 11, 2019

October 23, 2018

October 9, 2018

April 23, 2018

March 23, 2018

February 24, 2018

January 19, 2018

January 17, 2018

December 18, 2017

December 18, 2017
Blog Categories
Blog Archives
Our Writers