January 13, 2015 | Fog Crest Vineyard News, Fog Crest Vineyard News | Fog Crest Vineyard
Thank You for an Incredible 2014!
Here we are – 2015 - wow, what a whirlwind of a year 2014 was! Old saying…"The days are long, but the years are short".
Now that the holidays are over, we'd like to stop, before we get too busy again, and thank you for being a part of our journey. This last year, especially, was great fun, but challenging too as we experienced some of the growing pains associated with the opening of our tasting room last June. We spent the first few months of 2014 devoted to design and furnishings, finding just the right glasses and of course just the right staff to ensure the best tasting room experience possible. The rest of the year we committed ourselves to creating myriad opportunities for visitors to enjoy our wines, our view and to be a part of the realization of this next chapter of the Fog Crest Vineyard story. We have thoroughly enjoyed meeting each and every one of you that has stopped by to get to know us – after all, that's one of the best parts about the "wine business" – creating new friendships while sipping a glass of wine.
We've got lots of fun planned for 2015 – the launch of our Fog Crest Vineyard Book Club, our monthly "First Friday's", a Valentine's Day Wine Dinner, barrel tastings, BBQ's, something fun in our garden in the spring, summer evenings on the patio, new wine releases - and we look forward to seeing you again, or meeting you, if we haven't already.
See you on the patio – cheers!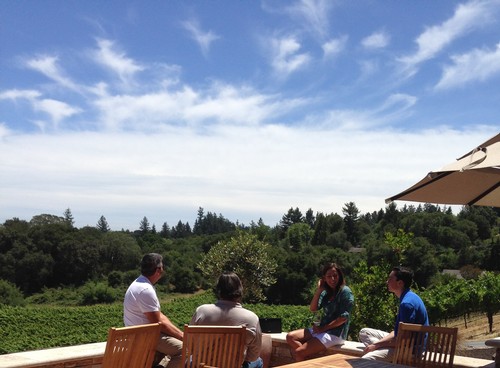 Comments
Recent Posts
January 11, 2019

October 23, 2018

October 9, 2018

April 23, 2018

March 23, 2018

February 24, 2018

January 19, 2018

January 17, 2018

December 18, 2017

December 18, 2017
Blog Categories
Blog Archives
Our Writers