April 15, 2015 | Food and Wine, Wine Country Recipes | Fog Crest Vineyard
Spring Recipes from Chef Heidi West
With Spring comes thoughts of outdoor dining and grilling, crisp salads and cool wines.
Spring has arrived to the Russian River Valley, and with it, bud-break, blossoms and warmer weather. We know many of you are looking forward to lazy afternoons on our patio, or yours, enjoying wine and casual dining with friends. We thought this would be a perfect time to share with you two recipes from one of our favorite local chefs, Heidi West, of Heidi West Catering. Chef Heidi prepares the dishes for many of our Fog Crest Vineyard wine dinners.
Her recipe for a Spring Mix Salad, features smoked trout, apples and goat cheese and would make a great starter or main course. It's just the thing to pair with our Estate Chardonnay. For a special, and somewhat unusual, alternative for your charcuterie spread, Chef Heidi offers Pork Rillettes, lovely with our Estate Pinot Noir.
So wipe off the table and chairs, bring out the cusions and let alfresco dining season begin!
Spring Mix Salad of Butterleaf, Arugula, Frisee and Belgian Endive with Smoked Trout, Julienned Apple, Goat Cheese and Honey Lemon Whole Grain Mustard Dressing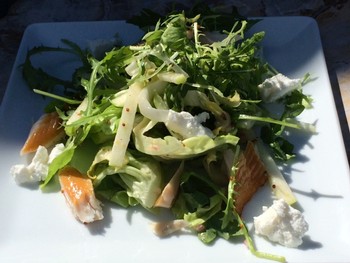 Ingredients:
1 head Butterleaf Lettuce torn in large pieces
1 cup Arugula
1 head Frisee torn
3 Belgian Endive cut in ½ slices
1Granny Smith apple julienned
3 oz Smoked Trout
2 oz Laura Chenel Goat Cheese
3 tsp Honey
½ tbl Lemon zest
4 tbl Lemon Juice
2 tbl Whole Grain Mustard
½ cup Olive Oil
1 large minced Shallot
Salt & Pepper to taste
Place the butterleaf, arugula, frisee, endive and apple in a large bowl. Whisk together the dressing ingredients and toss with the salad mixture. Plate and top with medium sized broken pieces of smoked trout and goat cheese crumbles.
Serves 4
Pork Rillettes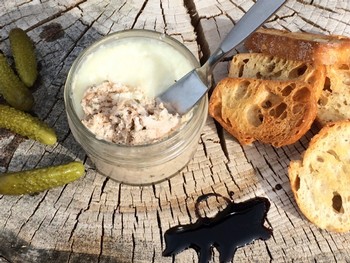 Ingredients:
2 pounds pork belly, cut into 2-inch cubes
1 pound pork shoulder, cut into 2-inch cubes
4 cups water
1 Bouquet Garni (Thyme Sprigs, Rosemary & Bay Leaf)
6 cloves of garlic crushed
1 teaspoon salt
black pepper
chopped fresh garlic
chopped fresh rosemary
chopped fresh Italian parsley
1 pound pork fat melted
Directions:
Place the pork belly and shoulder in the heavy-bottomed pot. Add water and bouquet garni and crushed garlic and cook over low heat, stirring occasionally. After 6 hours, stir in 2 tsp salt and 1 tsp black pepper and remove from heat. Discard bouquet garni.
Once meat is cool enough to handle, transfer it to the mixing bowl; using a fork, shred the meat, taking care to preserve the natural filament -- meaning you want shreds, not mush. Season with salt, chopped garlic, parsley & rosemary to taste. Be careful not to under season especially with salt.
Next, divide the mixture among several small containers. Top each portion with a quarter inch of pork fat to completely cover it and cover with a lid or plastic wrap. Place in the refrigerator and allow to sit for 3 days before serving.
To serve: Let rillettes mixture come up to room temperature and serve on baguette slices with balsamic vinegar and cornichons. Left covered, rillettes will keep in the refrigerator for up to a month.
Yield: Approximately 12-16 ozs.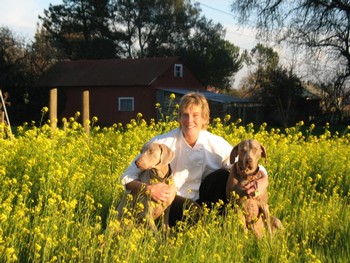 Bon Appétit!
Comments
Recent Posts
January 11, 2019

October 23, 2018

October 9, 2018

April 23, 2018

March 23, 2018

February 24, 2018

January 19, 2018

January 17, 2018

December 18, 2017

December 18, 2017
Blog Categories
Blog Archives
Our Writers