June 29, 2017 | Fog Crest Vineyard
Quick Summer Dinner
Summer is here and that means less work and more play. Long days at the beach or by the pool mean you're going to want to get dinner on the table quick and easy. Jim always manages to get the most flavor packed into his recipes without complicated techniques and this recipe for Braised Pork Loin is no exception. A spicy rub and an overnight marinade is the extent of the prep, then in just short of an hour of braising on the stove to cook. Heat up a couple of sides and dinner is ready!
BRAISED PORK LOIN TACOS
The ingredient amounts are enough for about 1.5 lbs of pork loin, but, honestly, you might want to double the recipe - it's that good!
For the shake:
2 T brown sugar
1 tsp salt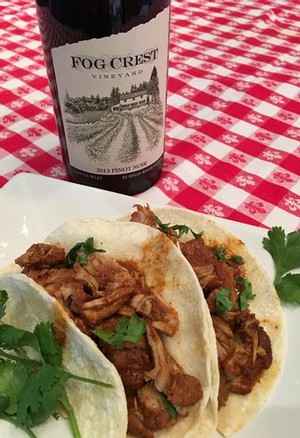 2 tsp paprika
2 tsp chile powder
1/2 tsp cayenne (optional or to taste)
1/2 tsp dry mustard
1/4 tsp thyme
For the marinade:
1/4 cup soy sauce
3/4 orange juice
1/2 cup Coca-Cola
juice of one lime
1 T ground cumin
2 tsp minced garlic
Cut pork into 2" chunks. Combine all shake ingredients in a ziplock bag. Add meat, and give it a good shake to evenly coat. Add marinade to bag, seal and marinate at least 12 hours.
Remove the meat from the marinade and reserve the marinade for sauce. Pat meat dry with paper towels.
In a deep skillet place some peanut oil or bacon fat (highly recommend). Heat over medium high heat, add meat and brown on all sides. If using oil, remove meat and drain off oil. If using bacon fat, just leave it. Place the reserved marinade in the skillet and deglaze pan if needed, scraping up all the brown bits. (Yum) Bring to a boil then lower heat to simmer and return meat to pan. Continue to simmer, covered for about 45 minutes until tender. Shred the pork using some of the extra cooked sauce to moisten.
Serve with warmed tortillas, chopped cilantro, diced white or red onions and your favorite salsa. A side of beans, black or pinto, would be perfect. Enjoy with ice cold beer or Fog Crest Vineyard Pinot Noir at a cool 55 degrees.
Comments
Commenting has been turned off.
Recent Posts
February 20, 2019

January 11, 2019

October 23, 2018

October 9, 2018

April 23, 2018

March 23, 2018

February 24, 2018

January 19, 2018

January 17, 2018

December 18, 2017
Blog Categories
Blog Archives
Our Writers