February 7, 2017 | Food and Wine, Special Events | Fog Crest Vineyard
New Orleans Mardi Gras

Mardi Gras - a traditional celebration fueled by the iconic foods of Louisiana.
While the internationally celebrated Carnival, a period of feasting and fun, begins on January 6 with The Feast of the Epiphany, New Orleans Mardi Gras is celebrated on Fat Tuesday, the final day before Ash Wednesday, when Lent begins.
Mardi Gras revelry includes parades, (the first being held in 1857), the throwing of trinkets and beads, costumes, masks and plenty of local, traditional foods.
Mardi Gras is considered the largest masked party in North America. Originally, masks worn during Mardi Gras allowed wearers to escape society and class constraints. Today, masks, simple or elaborate, are part of the intrigue and fun, and worn by everyone. Float riders are actually required to wear masks by law.
No celebration in Louisiana would be complete without Jambalaya, a dish with Spanish and French influence. Like paella, Jambalaya consists of meat and vegetables cooked with rice. Traditionally, the meat always includes sausage of some sort, often a smoked sausage such as andouille, along with shrimp, pork or chicken.
Italian influence is evident in the muffaletta sandwich, one of New Orleans' most iconic dishes. The sandwich is made on large rounds of sesame bread and layered with olive salad, genoa salami, ham, mortadella, provolone and Swiss cheese.
Jan. 6, the Twelfth Night after Christmas, commemorates the day the Magi arrived bringing gifts to the Baby Jesus, and is the traditional beginning of Mardi Gras and "King Cake" season in New Orleans. King Cake is a ring of rich Danish dough, baked then decorated with icing and green, purple and gold colored sugar. A tiny baby is inserted into the cake and the "lucky" person who gets the baby in his slice, traditionally is the host of the next King Cake party.
We've started our own tradition here at Fog Crest Vineyard of dedicating our February First Friday to celebrating Mardi Gras. We've found some local purveyors of all the delicious foods and every year a great group of people join us for an evening of food, wine and revelry. Hope you'll join us some time!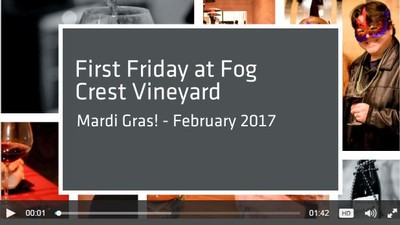 click here to watch highlights from our Mardi Gras celebration, 2017
Comments
Commenting has been turned off.
Recent Posts
January 11, 2019

October 23, 2018

October 9, 2018

April 23, 2018

March 23, 2018

February 24, 2018

January 19, 2018

January 17, 2018

December 18, 2017

December 18, 2017
Blog Categories
Blog Archives
Our Writers