August 7, 2017 | Fog Crest Vineyard
Jérôme Chéry - Winemaker - Fog Crest Vineyard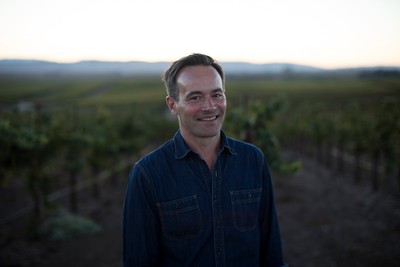 Our vision for Fog Crest Vineyard has always been to produce a style of Chardonnay and Pinot Noir that is an authentic and refined expression of the terroir that is the Russian River Valley. With dedication to that vision, in January of 2014 we brought on Jérôme Chéry as winemaker. Through his experiences, abroad in his home country of France then later in Australia, and domestically in Napa and Sonoma, Jerome acquired a strong appreciation for making wines that are an expression of place, a wine making philosophy that we share.
We've loved working with Jérôme these last couple of years and thought it would be fun to set up a Q & A to learn more about his personal food and wine journey.
FCV: Was wine a part of the daily meal as a child growing up in France?
JC: Yes it was! There was always wine on the table for my parents to drink, lunch and dinner, in moderation of course. Bread was there too. To this day, nothing's changed.
FCV: How was the food you ate growing up influenced by the area where you lived? Did you drink primarily wines from the Loire Valley?
JC: The diet of those who grow up in Italy, Spain or, like myself, in France, is greatly influenced by what is grown and raised locally. I was extremely lucky to have a mom and a grandmother who were incredible cooks and always crafted great meals. My mom always cooked with fresh produce, lunch and dinner, and we were a household of 6. The wines we drank were primarily from the Loire Valley, venturing from time to time to Bordeaux, Provence and Alsace. Always French.
FCV: Did you have an "aha moment" about wine from a consumer's viewpoint before you decided to study enology formally?
JC: I did. I was studying agronomy (the science of soil management and crop production) prior to enology and loved it. We visited a domaine in Coteaux du Layon and that was my "aha moment".
FCV: Besides school, what were some of the ways you learned about wine?
JC: I did work in France (Burgundy, Loire Valley, Provence, Languedoc) and Australia but my strongest learning experiences were here in California with Littorai and Saintsbury, both have strong ties to Burgundy.
FCV: Why did you come to California to make wine?
JC: At first it was more of a job opportunity that was offered to me. I moved 20 years ago, saying to myself, "oh it will be only for two or three years", knowing absolutely nothing about California. The rest is history.
FCV: What are your favorite French foods/American foods? What wines do you prefer to drink with them?
JC: That is a million dollar question. I love food and I love wine. American food: fried green tomatoes, beer can chicken, oysters Rockefeller. French food: mustard rabbit, tete de veau. For the pairing: American food: a crispy white, either Sauvignon Blanc or Gruner Veltliner. With mustard rabbit I prefer a rosé, and with the tete de veau, a Sancerre.
FCV: What is your favorite "special occasion" food and wine pairing?
JC: Caviar and Champagne.
FCV: If you could meet any one person in the wine industry, past or present, dead or alive, who would it be and why?
JC: Dom Perignon
FCV: What is your favorite/least favorite aspect of wine making?
JC: Favorite: anything that involves my senses. Assessing ripeness in a vineyard, monitoring tannin extraction during Pinot Noir winemaking, assessing drain and press for red winemaking. I also love being busy during the harvest.
Least favorite: Hmm let's see. Dealing with phone calls during the harvest.
FCV: If you hadn't become a winemaker, what would you likely be doing today instead?
JC: A perfume fragrance maker. I am completely obsessed with olfaction.
FCV: When you're not tending the vineyard or winery, what do you do for leisure?
JC: Hiking, gardening, cooking, playing tennis.
Comments
Commenting has been turned off.
Recent Posts
January 11, 2019

October 23, 2018

October 9, 2018

April 23, 2018

March 23, 2018

February 24, 2018

January 19, 2018

January 17, 2018

December 18, 2017

December 18, 2017
Blog Categories
Blog Archives
Our Writers