October 31, 2016 | Food and Wine, Wine Country Recipes | Fog Crest Vineyard
Harvest is over - time to cook
With harvest 2016 "in the barrel", thoughts now turn to our favorite slow-cooked dishes and time to prepare and enjoy them with friends.
The 2016 harvest was a return to normalcy for the Russian River Valley, following an excellent growing season free from drama or excess heat. Our first fruit came in on September 5th, and we finished by September 15th. The yields were a little below normal, and the initial quality looks to be excellent.
The vines showed significant improvement in their overall health this year. They are still mostly green and busy strengthening their root systems which is great news when compared to 2015. While we were fortunate to have very good quality in 2015, the yields were lower and the vines seemed tired by harvest after a 4th year of drought.
The last of the rosé was recently barreled down. Because of the huge and favorable response to our rosé releases the last couple of years, we've decided to increase the production a bit for the 2016 vintage. So, thank you for your support, enjoy what bottles you may have left during the holidays, and look for the 2016 rosé to be released sometime late May of 2017.
The 2016 vintage may blossom into something quite special. The next few months will be crucial to that final judgment. Everyone is quite pleased with the prospects for this year, and we're hoping the area's vineyards will have a wet and wonderful off season.
With harvest "in the barrel", we now have more time to think about slow-cooked, rich and brothy dishes that are so good to prepare and enjoy during the cooler fall and winter months. One of Jim's favorite recipes is for La Doba a la Nissarda.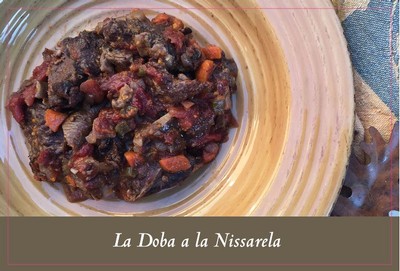 Basically a beef stew, this one is made all the more delicious with dried wild mushrooms and brewed espresso, adding even more depth of flavor and complexity to the burnished sauce. The dish is not difficult to make, but does require a number of hours of slow cooking so plan ahead. Maybe a good day to watch a movie, wrap presents, polish the silver, decorate the holiday table, catch up on ……. You get the picture.
Serve the Doba by itself in shallow soup bowls or over silky garlic mashed potatoes or extra wide egg noodles. Add a salad, some crusty bread, a bottle of pinot noir, and you have all you need for a casual, easy evening with friends.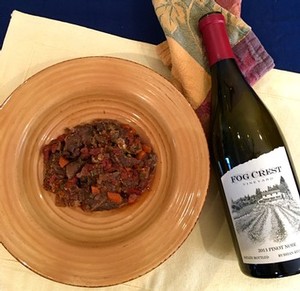 La Doba a la Nissarda Recipe
Recommended wine pairing: Fog Crest Vineyard 2013 Estate Pinot Noir
Buon appetito!
Comments
Commenting has been turned off.
Recent Posts
January 11, 2019

October 23, 2018

October 9, 2018

April 23, 2018

March 23, 2018

February 24, 2018

January 19, 2018

January 17, 2018

December 18, 2017

December 18, 2017
Blog Categories
Blog Archives
Our Writers