August 6, 2013 | Fog Crest Vineyard News | Fog Crest Vineyard
Happy 30th Anniversary to the Russian River Valley AVA!
August marks the 30th Anniversary of the Russian River Valley American Viticultural Area (AVA).
The Russian River Valley appellation of Sonoma County was granted AVA status in 1983 and has evolved over the years with it's boundaries being adjusted several times. The AVA doesn't cover the entire Russian River Valley, but generally lies between Sebastopol and Santa Rosa in the south, and Forestville and Healdsburg in the north of Sonoma County. Complete boundary map here. The growing area's wines are characterized by the cooling fog from the Pacific Ocean that regularly comes in via the Petaluma Wind Gap, arriving in the evening, retreating to the ocean in the morning and dropping the temperature as much as 40 degrees from the daytime high. These temperature changes allow the grapes to develop full flavor maturity over an extended growing season while retaining their natural acidity.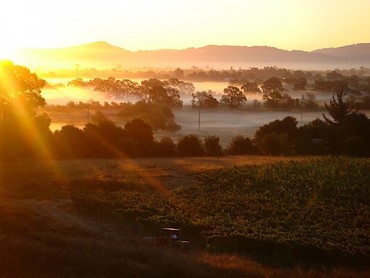 The fog in the vineyard at Fog Crest Vineyard
The area gets its name from the Russian immigrants who settled in the area in the 1830′s. By 1876 viticulture was well established in the Russian River Valley with the region producing in excess of 500,000 gallons of wine, with about 7,000 vineyard acres planted. Like most wine producing areas, Prohibition took its tool on the Russian River Valley, but by the 1960′s winemaking began again in earnest when Bob Sisson, the University of California Farm Advisor for Sonoma County, began urging local growers to turn their focus toward cool climate grapes like Chardonnay and Pinot Noir. Today over 15,000 acres are planted to vine with the majority being planted to these two varietals: Pinot Noir (29%) and Chardonnay (41%).
This 30th anniversary cannot be celebrated without acknowledging those that paved the way for many of us that now call the Russian River Valley home and feel privileged to grow grapes and make wine here. (Read about our Fog Crest Vineyard history in the Russian River Valley here.) Early pioneers in the area include winemakers like the Rochioli family, Joe Swan, Tom Dehlinger and Davis Bynum, Burt Williams, Ed Selyem, Saralee Kunde, the Dutton and Martinelli families, Jess Jackson, Merry Edwards and Gary Farrell.
Cheers to the Russian River Valley!
Comments
Commenting has been turned off.
Recent Posts
January 11, 2019

October 23, 2018

October 9, 2018

April 23, 2018

March 23, 2018

February 24, 2018

January 19, 2018

January 17, 2018

December 18, 2017

December 18, 2017
Blog Categories
Blog Archives
Our Writers