March 22, 2017 | Fog Crest Vineyard
Chicken Fricassee
Fricassee of Chicken with Roasted Tomatoes and Chanterelle Mushrooms
Our recent wine club shipment has just gone out and the featured recipe to pair with the Fog Crest Vineyard 2014 Estate Chardonnay is Jim's version of the classic French dish, Chicken Fricassee.
Basically a stew, the cooking process begins with browning the chicken and the vegetable/flour mixture, creating a caramelization for a rich looking sauce. The recipe calls for a "bouquet garni", which is a bundle of herbs either tied together with string or wrapped in a square of cheese cloth and tied into a pouch. Typically herbs include a sprig of thyme, a bay leaf and a couple sprigs of parsley, but other herbs will work as well. If using the pouch approach, feel free to throw in a couple peppercorns. Once the dish is done cooking, remove the bouquet garni and discard.
Jim likes to serve the chicken with earthy, butter browned chanterelles and slow roasted cherry tomatoes on the side. For the finishing touch, he combines the flavors of tangy/sweet shallots with smokey bacon, cooked in butter, and spoons the mixture over the top of the chicken.
Warm up some great bakery bread, open the wine and you've got the makings for a great meal to be enjoyed with friends and family.
Bon appetit!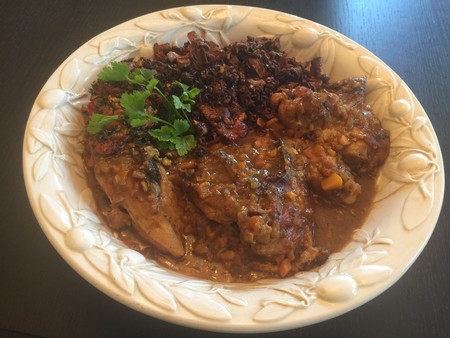 Click here for Fricassee of Chicken with Roasted Tomatoes and Chanterelles Recipe
Comments
Commenting has been turned off.
Recent Posts
January 11, 2019

October 23, 2018

October 9, 2018

April 23, 2018

March 23, 2018

February 24, 2018

January 19, 2018

January 17, 2018

December 18, 2017

December 18, 2017
Blog Categories
Blog Archives
Our Writers