March 29, 2017 | Fog Crest Vineyard
Chef Series Wine Dinners at Fog Crest Vineyard
Fog Crest Vineyard Announces "Chef Series" Wine Dinners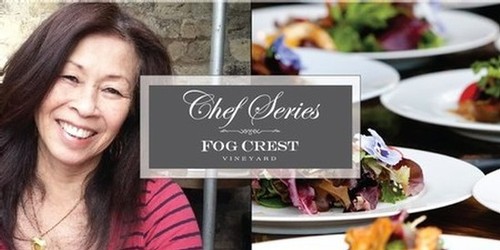 "Wine is meant to be with food - that's the point of it."
- Julia Child
Well, we think wine goes great with a lot of things… a great view, comfortable conversation, a good book, a roaring fireplace, a bubble bath, a stunning sunset, and the list goes on. But, we do agree with Ms. Child that wine is truly meant for food. Both are elevated by the pairing of one with the other, bringing out nuances in each that might be overlooked when consumed independently.
Ultimately, our goal at Fog Crest Vineyard is to craft wine that, while lovely on its own, pairs beautifully with a wide range of foods, flavors and cultural cuisine, bringing out the best each has to offer.
This year, we are so excited to be taking our adventures in food and wine pairing to a higher level of enjoyment and refinement, by introducing our "Chef Series Winemaker Dinners". With each of the four dinners in the series, the concept of food and wine pairing will be focused on the cuisine of one of Sonoma's local and acclaimed chefs. Each chef will literally "bring to the table" dishes that reflect his/her area of culinary expertise and cultural expression, seamlessly woven together into a menu, that along with the paired wines, tells a story of passion, place and personal expression.
We are so thrilled to have as our first guest chef, Barbara Hom, whose food and wine resume boasts stints in some of the area's finest restaurants, and winemaker dinners at dozens of wine country's most prestigious wineries. She has designed and created menus for food and wine critics such as Michael Bauer, Marvin Shanken, James Laube, Dan Berger and Jeff Morgan, to name of few, and now she's designed a menu to be enjoyed by you. Known for her blending of fresh, local, seasonal products and traditional ingredients, Barbara has created a Pan Asian menu for our guests that is sure to open your mind and your palate to a whole new perspective on food pairing with Chardonnay and Pinot Noir.
Fog Crest Wine Dinner with Barbara Hom
Saturday, April 22, 2017 - 6:00 pm
Menu
First of the Season English Spring Pea Soup Shooter, Chive Oil
2014 Fog Crest Vineyard Laguna West Chardonnay
***
Halibut Coconut Tempura, Kumquat Salsa
Asian Microgreens, Yuzu Ginger Passion Fruit Honey Dressing
2013 Fog Crest Vineyard Laguna West Pinot Noir
***
5-Star Anise Tea Smoked Liberty Duck - Cherry Berry Sauce
Jasmine Rice Cake, Yau Choy
2014 Fog Crest Vineyard Estate Pinot Noir
Seating for these dinners will be limited, allowing for a more intimate experience with both the chef and the winemaker. We look forward to having you at our table and enjoying together the infinite pleasure of sharing a fabulous meal of exceptional food and wine.
Price: Wine Club Members - $135.00
Non-members - $150.00
Click here to purchase tickets (Wine club members, please login to your account first to receive discount)
Comments
Commenting has been turned off.
Recent Posts
January 11, 2019

October 23, 2018

October 9, 2018

April 23, 2018

March 23, 2018

February 24, 2018

January 19, 2018

January 17, 2018

December 18, 2017

December 18, 2017
Blog Categories
Blog Archives
Our Writers