May 7, 2017 | Fog Crest Vineyard
Cheers to Rosé Season
Welcome Spring and welcome Rosé!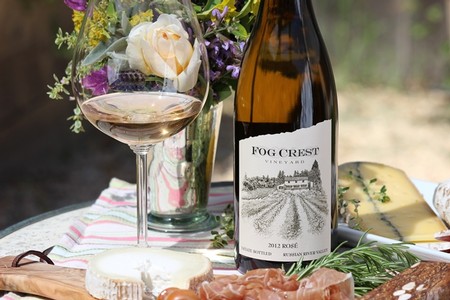 Spring is here and with it, warmer weather and the promise of summer. It's so easy to start thinking about long afternoons by the pool, backyard barbecues, picnics and concerts in the park. Here at Fog Crest Vineyard, this time of year also means the release of our new Rosé of Pinot Noir, a wine perfectly suited for the season.
Rosé walks that line between red and white wine - not as tannic as red, but with plenty of depth and acidity, Rosé seems to pair beautifully with just about any type of food, including grilled meats.
The production of Rosé is similar to that of red wine, except that we do not allow the juice of the Pinot Noir grapes, which is white, to come in contact with the red skins during maceration and fermentation.
After an early morning pick in ideally cold weather, the whole clusters are quickly loaded into the press for a short, gentle cycle of only about 3 hours. Although there is no actual skin contact, the juice is lightly colored during this process.
The juice is then placed in a jacketed tank, chilled to 45ºF and settled for 4 days in order to obtain maximum clarity.
After racking from the settling lees, fermentation starts in the tank. We ferment the Rosé cold which allows us to capture as much of the fruit flavors as possible. It's a longer process due to the fermentation temperature, taking about 3 weeks for the wine to go dry (convert residual sugar to alcohol).
Upon dryness, the wine is racked again to prevent any yeasty aromas, and transferred to neutral barrels. Malolactic fermentation is blocked to ensure maximum acidity.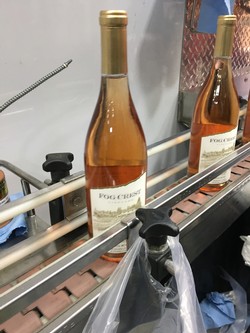 The wine goes into bottle about 6 months later to await it's mid-Spring release.
Rosé is meant to be enjoyed young, not cellared for years like most reds and some whites. While we make ours with Pinot Noir grapes, Rosé can be made from any red wine grape, and it's very interesting, and fun, to try rosés from different parts of the world. France and Spain actually lead the way in Rosé production, often blending 2-3 different grape varieties.
So enjoy the world through Rosé filled glasses now before it's gone till next year.
Recipes that pair with Rosé:
Rosemary Flatbread with Gorgonzola and Grapes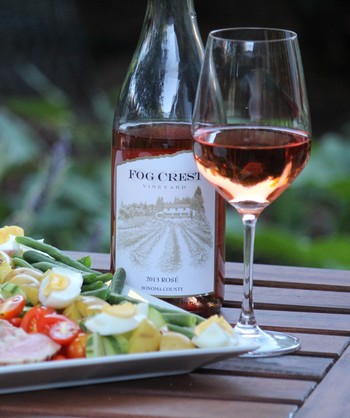 Comments
Commenting has been turned off.
Recent Posts
February 20, 2019

January 11, 2019

October 23, 2018

October 9, 2018

April 23, 2018

March 23, 2018

February 24, 2018

January 19, 2018

January 17, 2018

December 18, 2017
Blog Categories
Blog Archives
Our Writers