January 27, 2016 | Fog Crest Vineyard
A Valentine's Day Dinner with Friends
Skip the crowded restaurants and serve up a classic, romantic Valentine's Day dinner for four at home.
After all the big party throwing of the holidays, Valentine's Day can be an opportunity to keep it small and intimate – say dinner for four? A classic meal, simply prepared, a beautifully decorated table, a couple bottles of wine and some good friends all make for the perfect way to celebrate Cupid's big day.
Valentine's Day is definitely the time to dress your dining table in romantic style - lots of red, white, shiny silver, glittery gold and sparkling crystal. Start with a damask tablecloth and add layers to your tablescape with gold runners used crosswise on the table like placemats. Using the red, white and gold color palette, layer chargers, dinner plates and salad plates.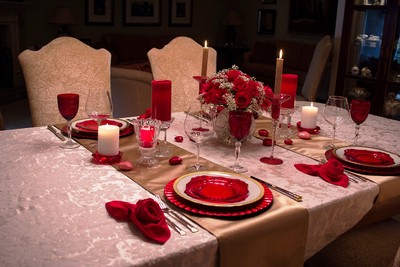 Use a gold napkin with a pearly napkin ring to add elegance or a red napkin folded into a rose to add romance.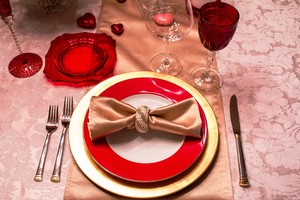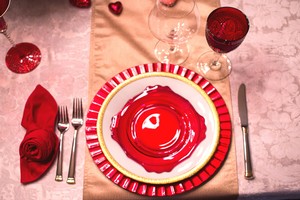 This is the time to get that beautiful crystal vase out of the sideboard and fill it with perfect red roses and baby's breath. A single rose on each place setting gives each guest the opportunity to enjoy its alluring perfume during the course of the evening.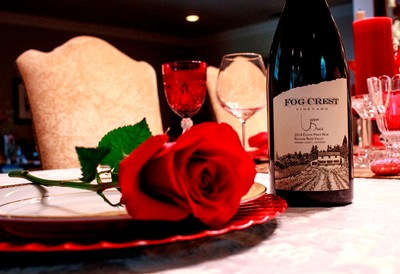 Add light to your table with glittered beeswax candles and crystal votives, dim the lights, turn on some instrumental guitar and settle in to enjoy the evenings menu....and the company of those you love.
Valentine's Day Dinner Menu for 4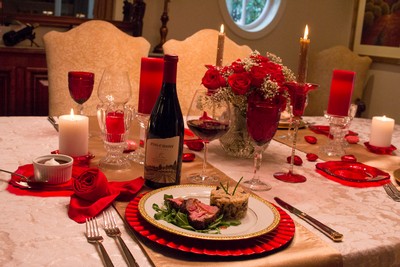 Peppered Beef Tenderloin with Pinot Noir Sauce on a bed of Fresh Arugula
Truffled Wild Mushroom Risotto
Chocolate Pots de Crème
Peppered Beef Tenderloin
I 2 lb beef tenderloin
2 Tbsp freshly cracked black pepper
1 Tbsp butter
Sprinkle meat with pepper and salt. Melt butter in heavy oven proof skillet over medium-high heat – add meat and cook until brown on all sides, about 5 minutes. Transfer skillet to oven pre-heated to 375°, and cook until a meat thermometer inserted in thickest part registers 125° for medium-rare, about 20 minutes. (Tips for cooking beef tenderloin) Let rest for about 10 minutes before slicing .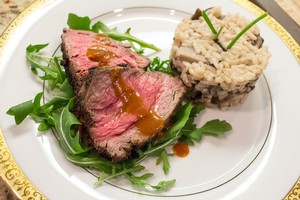 Pinot Noir Sauce
1 Tbsp olive oil
1 small shallot, minced
2 cups pinot noir
2 ½ cups chicken stock
1 Tbsp chopped fresh thyme
1 Tbsp Dijon mustard
½ tsp cornstarch mixed with ½ tsp cold water
2 Tbsp unsalted butter
In medium saucepan, heat olive oil. Add shallots and sauté for 2 minutes. Add pinot noir and reduce by half. Add stock and stir in thyme, mustard and cornstarch mixture – reduce until sauce thickens. Remove from heat and stir in butter. Season to taste with salt and pepper.
Truffled Wild Mushroom Risotto
2 Tbsp olive oil
4 Tbsp unsalted butter, divided
2 cloves of garlic, minced
1 oz dried wild mushrooms, soaked in 1 cup boiling water, drained – liquid reserved – and chopped
1 lb assorted mushrooms – shitake, crimini, oyster, chanterelle – chopped
1 tsp fresh chopped thyme
1 medium onion, diced
2 cups Arborio rice
1 ½ cups dry white wine
½ cup dry sherry
6 cups chicken stock, kept warm in saucepan
½ cup grated parmesan
¼ cup chopped chives
Truffle oil
Heat oil and 2 Tbsp butter in heavy wide bottomed skillet or dutch oven.Add onion and cook 3 minutes. Add garlic – cook 1 minute, stirring. Add mushrooms and thyme and cook 3 minutes. Add rice and cook, stirring occasionally, until rice becomes opaque with a dot of white in the middle, about 2 minutes. Add wine and sherry and cook, stirring, until wine is absorbed. Add about 1 ½ cups of stock and cook, stirring occasionally, until liquid is just absorbed. Continue in same way with rest of stock and reserved mushroom liquid (leave any mushroom sediment behind), until liquid is absorbed and rice is cooked but still firm. Stir in 2 Tbsp butter, Parmesan and about 1 ½ Tbsp truffle oil.
Make ahead: At this point, spoonfuls of risotto may be packed into a 3" molding ring, and unmolded into 9" square baking dish. Chill in refrigerator up to 1 day. Before serving, reheat in 350° oven for 20 minutes.
To serve:
Make small mound of arugula on each plate. Top with 2- ½" slices of tenderloin and spoon warm sauce over. Place one risotto timbale alongside meat and arugula. Sprinkle with a few pieces of chopped chives.
Pair dinner with Fog Crest Vineyard Estate Pinot Noir.
2014 Upper Block Estate Pinot Noir is a limited release wine and currently available only in the tasting room and to Wine Club members.
Pots de Crème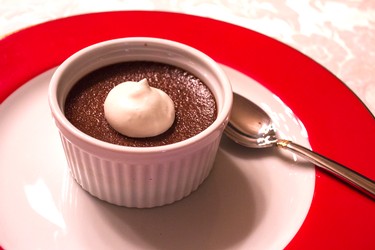 2 cups whipping cream (plus ½ cup, whipped, for topping)
4 ozs semisweet chocolate, chopped
1 tsp instant espresso powder
6 large egg yolks
3 Tbsp sugar
Position rack in center of oven and pre-heat to 325°. Place 6 ¾ cup round ramekins in 13x9" baking dish. Bring about 4 cups of water to a boil in a tea kettle or pot.
Combine cream, chocolate and espresso powder in heavy medium saucepan. Bring almost to simmer over medium heat, whisking until chocolate melts and mixture Is smooth. In mixing bowl, whisk egg yolks and sugar to blend. Whisk in about ¼ cup hot cream mixture. Gradually whisk in remaining hot cream mixture.
Divide custard among ramekins. Pour enough hot water in pan to come about halfway up sides of ramekins, being careful not to drop water onto surface of custard. Bake until just set around edges, but still slightly soft in center, about 25 minutes. Carefully remove cups from water and let cool at room temperature about 15 minutes. Move to refrigerator and cool completely, uncovered, about 2 hours. Cover with plastic wrap if going to keep for up to 1 day. To serve, place ramekin on plate and dollop chocolate with whipped cream.
(Recipe adapted from Bon Appetit Magazine - April 2000)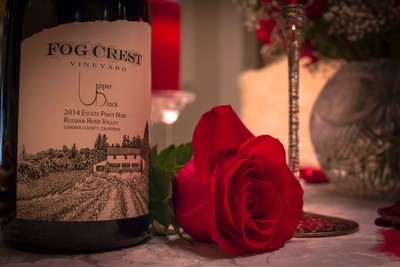 Photo Credit: Shawn Burgert
Comments
Commenting has been turned off.
Recent Posts
January 11, 2019

October 23, 2018

October 9, 2018

April 23, 2018

March 23, 2018

February 24, 2018

January 19, 2018

January 17, 2018

December 18, 2017

December 18, 2017
Blog Categories
Blog Archives
Our Writers