April 25, 2017 | Fog Crest Vineyard
A Cinco de Mayo Celebration
Somewhere along the way, Cinco de Mayo became associated with Mexican Independence Day, which occurs on September 16th. Cinco de Mayo actually commemorates the Mexican Army's victory over French forces at the Battle of Puebla on May 5, 1862.
Today, in the United States, Cinco de Mayo is observed as a celebration of Mexican-American culture, and often includes parties, big and small, featuring the popular cuisine of Mexico accompanied by generous amounts of Margaritas, Mexican beer and tequila shots.
At Fog Crest Vineyard, May is the month for another celebration - it's the month we traditionally release the new vintage of our Rosé of Pinot Noir, in conjunction with Mother's Day. So, while the wine will not be available in time for Cinco de Mayo, we wanted to share with you one of James' favorite latin style dishes that will pair great with the Rosé all summer long. This colorful dish, slightly spicy, is super easy to prepare, and gives the griller in your house an excuse to fire up the BBQ.
GRILLED CHICKEN ACHIOTE
Serves 4
2 lbs. boneless chicken thighs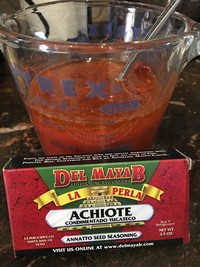 Marinade:
1/4 cup olive oil
6 T achiote paste, 3.5 oz
3/4 cup orange juice
1/4 cup lemon juice
Vegetables:
1/2 white onion diced
2 poblano chiles roasted, peeled, seeded, and diced
1 red bell pepper roasted, peeled, seeded, and diced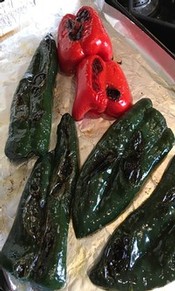 1/4 cup olive oil
3 whole cloves garlic peeled
Combine the marinade and mix well, then add the meat. Marinate overnight in the refrigerator.
Heat 1/4 olive oil in a sauté pan over medium heat, add the cloves of garlic and cook until lightly browned then discard the garlic and add the onions. Cook until clear, then add the diced chiles and pepper. Heat through and reserve.
To roast peppers, remove stems and seeds, cut into quarters, lengthwise and place on oiled baking sheet. Roast at 400 degrees about 25 minutes, until skin starts to char, flipping halfway through cooking time. When charred and tender, remove from oven and place in brown paper bag, tightly closed, about 1 hour. Remove from bag and peel off skins.
Remove the chicken from the marinade and shake off excess. Place on a medium high grill, skin side down, and cook until the skin begins to brown, then flip. Continue to cook turning the chicken often until the juices run clear finishing on the skin side.(approx 20 min). Cut into 1" chunks and combine with the vegetables. (reheat prior if needed)
Serve with guacamole, warm tortillas, rice, and beans. Salud!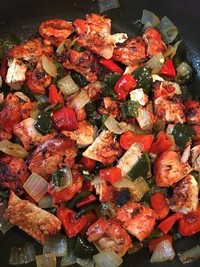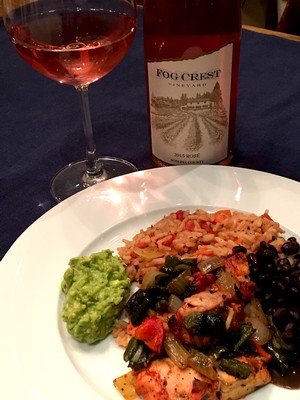 Comments
Commenting has been turned off.
Recent Posts
February 20, 2019

January 11, 2019

October 23, 2018

October 9, 2018

April 23, 2018

March 23, 2018

February 24, 2018

January 19, 2018

January 17, 2018

December 18, 2017
Blog Categories
Blog Archives
Our Writers