August 10, 2014 | Food and Wine | Fog Crest Vineyard
2014 Wine Bloggers Conference
Wine Bloggers Conference 2014 - A Visit to the Central Coast of California Wine Country
Confession here: Before Fog Crest Vineyard came into existence, I was not much of a wine drinker. Don't get me wrong, I liked wine and had a pretty good palate. But I had never really taken the time to taste wine and experience its myriad nuances and possibilities.
17 years ago when our "wine adventure" began, it was Jim's dream to become a farmer – plant and grow grapes. So we bought our land here in the Russian River Valley, planted grapes and initially sold them. As things began to evolve, the way things do, we ultimately made the decision to make wine from our grapes, hired a winemaking consultant and the next phase of our journey began. With Jim managing the vineyard, our winemaker in the winery, I naturally fell into the role of managing the business. This I understood. But my desire to learn more about wine, itself, was taking a firm hold.
In 2011 I attended my first Wine Bloggers Conference in Charlottesville, Virginia. It quickly became apparent to me that attending these conferences, held in a different wine region each year, provided a great opportunity to get well acquainted with wines from all over the world, and I've enjoyed the conference every year since.
This year #WBC14, as it's referred to in the blogger-sphere, was held in the Central Coast of California – a vast region with huge diversity in grape varieties, climates, soils and winemaking styles.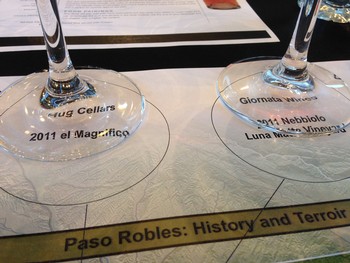 For 50 attendees, the conference began with a pre-con excursion to Paso Robles in San Luis Obispo County, an area I had never visited despite its close proximity to the Bay Area where I had lived for many years. (Paso Robles is located approximately half way between Los Angeles and San Francisco) And no wonder, really. Until the last few years, Paso Robles had been flying under the radar with many wine enthusiasts having no idea of the winemaking revolution that was going on there. In 2010 Wine Spectator Magazine awarded the Wine of the Year to Saxum - James Berry Vineyard – 2007 – Paso Robles, a blend of Grenache, Mourvèdre and Syrah, put a picture of rockstar winemaker, Justin Smith, on the cover and Paso was off and running. The word was out – high quality wine was being produced and in 2013 Wine Enthusiast named "Paso Robles Wine Region of the Year".
With over 250 wineries in the area today, Paso Robles is growing fast. Winemakers are coming from all walks of life to pursue their passion for wine, and from the revered wine regions of Europe and Napa to experiment with unique blends and a vast array of varietals that all thrive in the calcareous soils typical of the region. This is not an area dedicated to just a select few grape varieties. Indeed, when I was there I tasted wines made from Bordeaux varietals, Rhone varietals, Italian varietals, Portuguese varietals, zinfandel, tempranillo, albariño and more that thrive in the warm days and cool nights, with a diurnal temperature change of as much as 40 degrees. Creative winemakers are successfully blending varieties in ways that were unheard of before – cabernet with syrah, syrah with tempranillo, GSM blends with a little zinfandel – all with lush, complicated and interesting flavor profiles. This is an area that is making stellar blends from the white Rhone varietals viognier, roussanne, marsanne and grenache blanc. These whites are crisp with great acidity and floral aromas. Rosé has a special place here with many producers offering up the lovely dry "pinks" made from Grenache, cabernet sauvignon, tempranillo and syrah.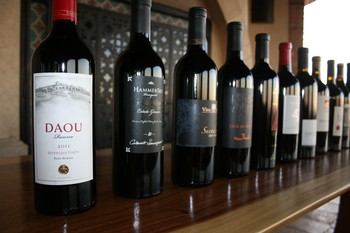 Diversity carries over to the tasting rooms and winemakers as well. There are the palatial wine estates of DAOU and Law Family Wines. There are the historical wineries of Epoch and Halter Ranch. There are the wineries exploring and implementing biodynamic farming such as Tablas Creek and Ambyth Estate. There are many, many small, family owned and operated wineries that are the heart and soul of the area, with small tasting rooms that reflect the character of their owners and vineyards that embrace the ancient oaks on rolling hillsides. Tasting room architecture runs the gamut from modern to farmhouse. The constant: warm, friendly people anxious to share their passion for the area and for wine with visitors eager to try these unique wines. They've all come to Paso to fulfill a dream, to raise their families and to create wines that reflect the terroir and their vision.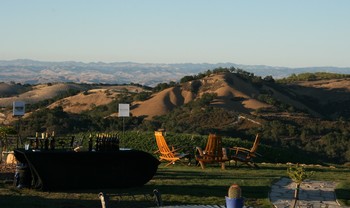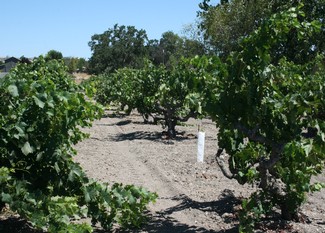 If you haven't visited Paso Robles yet, consider a trip there to broaden your understanding of our vast California wine producing region. We are so lucky to have such an abundance of great growing areas and talented winemakers whose wines we can never tire of exploring.
I'd like to thank Chris Taranto and his entire staff at the Paso Robles Wine Alliance for being our most gracious hosts for the 24 hour excursion. They provided us with insightful seminars in beautiful winery locations, informative tastings, tours, delicious meals and outstanding accommodations. A big thank you also to the wonderful people who opened up their wineries and vineyards for us to visit and to all those that took the time to share their passion and their wines with us. Cheers to you all!
In my next blog post the Wine Bloggers Conference continues in the Santa Ynez Valley wine growing region in Santa Barbara County.
Comments
Recent Posts
January 11, 2019

October 23, 2018

October 9, 2018

April 23, 2018

March 23, 2018

February 24, 2018

January 19, 2018

January 17, 2018

December 18, 2017

December 18, 2017
Blog Categories
Blog Archives
Our Writers